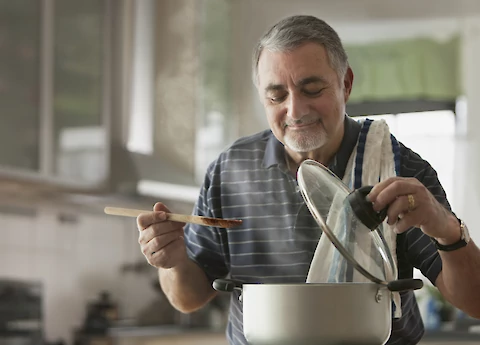 Meal preparation is a great way for seniors to ensure they get delicious, convenient meals without sacrificing taste or nutrition. In this blog post, we will discuss the definition of meal prep, the benefits associated with it, meal prep gift ideas for seniors in your life, and considerations to keep in mind.
What Is Meal Prep? 
Meal prep is the practice of planning and preparing ingredients and even entire meals in advance to save time, money, and energy. Meal prep can include multiple components of meal planning, such as shopping for ingredients, prepping ahead of time, and cooking meals. Seniors can also order meal ingredients that are already portioned and ready to cook. 
Benefits of Advance Meal Prep
Meal prep can be beneficial for seniors in many ways. Meal prep plans can make it easier to create and structure home menus, helping to provide seniors with a steady routine and portion control. Meal prep plans can be tailored to fit any dietary restrictions or health conditions, and they can also help seniors save time in the kitchen as they can have meals ready to go in advance to enjoy throughout the week.
Then there's actually preparing meals, or at least their ingredients, ahead of time. This helps save money and makes it easier for seniors to make a quick meal rather than skip or order less nutritious meals. Seniors can enlist friends, family, or in-home care professionals to help with advanced meal prep. 
Gift Ideas
If you are looking for meal prep gift ideas for seniors in your life, here are some to get you started:
Subscriptions to Meal Prep Kit Delivery Services 
Meal kit delivery services such as HelloFresh, Freshly, and Blue Apron make it easy for seniors to cook delicious meals in a convenient and cost-effective way with little waste and usually with reduced cleanup. 
Meal Prep Containers
It's important to ensure seniors have the right containers in which to store their meals and leftovers. Look for containers that are lightweight and easy to open and close. 
Cookbooks with Easy Meal Prep Recipes
Seniors can benefit from having easy-to-follow recipes that are specifically designed for easy meal prep. There are many cookbooks that are tailored for seniors that make meal preparation a breeze.
Kitchen Tools That Are Easy for Seniors to Use 
Seniors need kitchen tools that are ergonomically designed to make meal prep easier, safer, and more comfortable. Look for kitchen tools that are lightweight and have easy-to-use features, especially knives, peelers, can openers, and jar openers. 
Things to Remember
When giving meal prep gifts to seniors, always take their health restrictions, accessibility, and cost into consideration. Some seniors may have dietary restrictions due to health conditions, so make sure their meal plan accommodates their individual needs. Additionally, seniors may need assistance with kitchen tasks due to mobility issues or other limitations, so be sure to provide gifts that are easy to use and recipes they can manage. Lastly, seniors may be on a tight budget, so keep cost-effectiveness in mind. 
Does Your Loved One Need a Chef's Assistant?
Does your favorite senior need a little help in the kitchen? Senior Helpers South Miami & Kendall is here to provide professional, in-home senior care. Contact us for more information about how we can serve you in Miami, Kendall, South Miami, Coral Gables, Coconut Grove, Pinecrest, Palmetto Bay, Miami Beach, Homestead, and nearby areas.