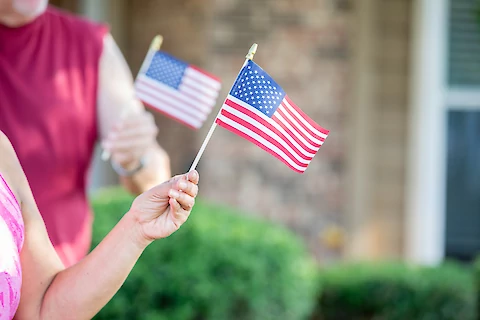 Memorial Day parades hold a special place in our hearts, as they allow us to come together and honor the brave soldiers who have made the ultimate sacrifice for our country. As a senior citizen, your presence at these events brings a sense of unity and patriotism that is truly valued. That's why we've put together this guide to help you safely enjoy Memorial Day parades and make the most of these meaningful celebrations. 
Stay Hydrated
One of the most important things to remember when attending any outdoor event is staying hydrated, especially during the hot and sunny weather typically associated with Memorial Day. To ensure you're well-hydrated throughout the day, carry a water bottle with you or consider using a lightweight hydration pack. Be aware of the signs of dehydration, such as dizziness, headache, and fatigue, and take action to prevent it by frequently sipping on water.
Use Sun Protection
Always apply sunscreen with a high SPF before setting out for the day, even if it appears cloudy outside. Remember to reapply sunscreen at least every two hours and pay particular attention to areas that are more exposed, like your face and the back of your neck. Don't forget to wear hats, sunglasses, and light protective clothing to shield yourself from the sun's rays further.
Find a Comfortable Vantage Point
As a senior citizen, it's essential to minimize strain on your joints and muscles during the parade. Bring along a portable chair or cushion to make sitting more comfortable, or scope out shaded areas that offer a place to rest when needed. Look for standing spots that provide easy access to restrooms, food vendors, or other essential facilities so you can enjoy the parade without unnecessary stress or discomfort.
Safely Navigate the Crowds
Memorial Day parades often draw large crowds, so be prepared for navigating through the masses of people. Follow designated pathways when moving through the crowd and try to avoid congested areas whenever possible. If you're attending the event with friends or family, have a designated meeting spot in case you become separated. Most importantly, always remember to be patient and respectful of others in attendance.
Prepare a Self-care Kit
To ensure you're well-prepared for any situation that may arise during the parade, it's important to have your necessary medications on hand. Pack a small bag with essential items like medication, snacks, a phone charger, and anything else you may need throughout the day. Also, if you have difficulty walking or standing for extended periods, bring along a walking stick, rollator, or other mobility aids to assist you during the event. Those who may be sensitive to loud noises should consider bringing earplugs or noise-canceling headphones. 
What Else You Need to Know
Before heading out to the parade, be sure to check the weather forecast and dress appropriately for the day's conditions. Layering clothing is an excellent way to easily adjust to changing weather. Arriving early to the event will not only allow you to find parking more easily but will also enable you to secure a prime spot for viewing the parade. 
Celebrate With Senior Helpers
If you live in the Miami, Kendall, South Miami, Coral Gables, Coconut Grove, Pinecrest, Palmetto Bay, Miami Beach, or Homestead area and need assistance or companionship during Memorial Day celebrations, contact us at Senior Helpers South Miami & Kendall. Our professional and compassionate team is here to help you make the most of this special day.