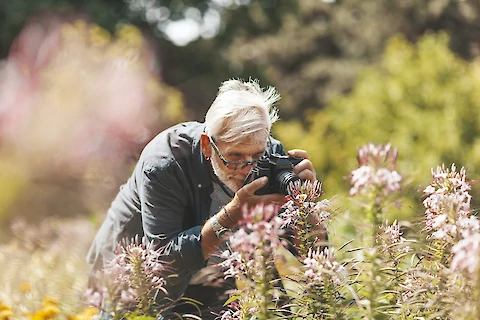 Springtime provides the perfect opportunity for seniors to get active and socialize while enjoying the beautiful weather! Staying active and engaged boosts physical health and contributes to overall well-being and happiness in our golden years. In this blog post, we'll explore various outdoor and indoor activities tailored for seniors to stay physically active, entertained, and connected with others this spring. So, if you're looking for creative ways to enjoy this season in Miami, Kendall, and South Miami areas, read on for inspiration!
Outdoor Activities
Consider the outdoor activities below to help seniors enjoy spring:
Taking a Walk
Take a walk or a hike in one of the many local parks in Miami, Kendall, and South Miami. Tropical Park, for instance, offers beautiful scenery and walking trails, making it an ideal spot for seniors to embark on a stroll or even a light hike. With numerous parks, you'll always have options for fresh air and a connection with nature.
Gardening
Gardening or participating in a community garden offers another fantastic option to stay active while enjoying the outdoors. Gardening provides numerous physical and mental health benefits, such as stress reduction and improved mobility. It also offers the opportunity to socialize with fellow gardening enthusiasts. Check out some local community gardens, like the Coral Gables Garden Club or the Pinecrest Gardens, and get ready to cultivate new friendships alongside beautiful plants.
Joining a Fitness Class
If you're seeking a more structured way to stay active, consider joining an outdoor fitness class or taking up a sport approved by your doctor. Several classes cater to seniors in the area, such as yoga, tai chi, or even pickleball, which is a fun and low-impact sport gaining popularity among older adults. These activities promote physical fitness and present an opportunity to meet new people and bond over shared interests.
Attending a Social Event
Finally, attending outdoor social events and gatherings is a fantastic way to stay engaged with your community. Local farmers' markets, art shows, and festivals provide entertainment and a chance to socialize. Additionally, attending an outdoor concert or theater performance offers the perfect way to enjoy a lovely spring evening.
Indoor Activities
For those who prefer indoor activities, here are just some of the activities you can try out:
Joining a Book or Discussion Club
Joining a book club or a discussion group is an excellent option for those seeking mental stimulation rather than physical one. Local libraries and community centers often host clubs tailored to seniors, providing a space to participate in engaging conversations and broaden their social circle with like-minded individuals.
Taking a Cooking or Art Class
Many seniors enjoy cooking or art classes to stay active and engaged indoors. Many community centers and local businesses offer classes designed for older adults, making it an excellent opportunity to learn a new skill and connect with others who share your interests. 
Volunteering
Volunteering or participating in community service helps seniors stay socially active and give back to their community. Look for local organizations or events that need volunteers, such as food banks, hospitals, or charity fundraisers, to make a positive impact while staying active.
Attending a Cultural Event
Lastly, attending cultural events and performances is a beautiful way to stay entertained and connected with the local art scene. The Miami area offers numerous theaters, museums, and galleries that cater to various interests, ensuring there's something for everyone.
Local Senior Clubs and Centers for Adult Living
Participating in activities offered by senior clubs or centers for adult living presents numerous benefits. In addition to providing a safe and welcoming space, these centers offer several programs and events curated for seniors, such as fitness classes, workshops, and social gatherings.
Some local senior centers in the Miami, Kendall, and South Miami areas include the Coral Gables Adult Activity Center and the Goodlet Adult Center. These centers provide numerous opportunities for seniors to connect with their peers and enjoy diverse activities.
We Would Love to Help
Seniors may choose from many ways to stay active and social this spring in the Miami, Kendall, and South Miami areas. With many outdoor and indoor activities, there's something for everyone to enjoy. If you or your loved one needs additional support or resources, don't hesitate to contact Senior Helpers South Miami & Kendall. Our team wants to help your senior family member embrace an active, healthy, and social lifestyle this spring!