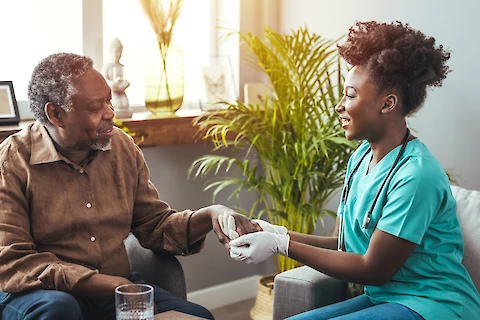 Chronic obstructive pulmonary disease, more commonly referred to as COPD, is a progressive condition that affects the lungs and airways. Individuals who are living with COPD may find themselves in need of increased in-home care services or other forms of support as the disease progresses. While a doctor or home health services can help manage many medical needs, many people living with COPD find that they need additional support to make it easier for them to remain at home. Take a look at the common non-medical needs of those living with COPD.
What is COPD?
COPD is a chronic respiratory condition that makes it difficult for the person affected to breathe. It often occurs as a result of smoking or long-term exposure to air pollution and other environmental hazards. COPD is typically divided into two categories: emphysema, which affects the smaller air sacs in your lungs, and chronic bronchitis, which causes inflammation and narrowing of the airways. Symptoms may include coughing with mucus production, shortness of breath (especially during exercise), chest tightness/ discomfort, tiredness/ fatigue, or wheezing when inhaling. 
Non-Medical Care Needs for Seniors Living with COPD
While seniors with COPD may need considerable medical assistance, they may also find that they need assistance with a number of the activities they engage in every day.
Assistance with Activities of Daily Living
Seniors living with COPD often find everyday tasks more difficult and taxing due to the physical limitations posed by the condition. Enlisting help with light housekeeping, meal preparations, and laundry can provide much-needed respite as well as peace of mind.
Home and Environmental Modifications
Many modifications around the home can be made to alleviate some COPD symptoms. This may include installing air purifiers or humidifiers to improve air quality for easier breathing.
Socialization Opportunities
Emotional health is an important part of managing a chronic condition like COPD. Engaging in regular social activities helps ward off depression, which can exacerbate the existing medical issues one faces when living with COPD. Low-impact activities such as weekly visits from neighbors or friends, movie nights, playing board games at home, or game days outside are some examples senior caregivers could take initiative in organizing.
Nutritional Needs
Caregivers must understand nutritional needs when it comes to people living with chronic conditions like COPD. Often, utilizing the right nutrition options can help alleviate symptoms and improve overall health. 
Exercise and Activity
Caregivers can help many seniors with COPD get active and exercise more, which can help alleviate some of the symptoms they may face. Caregivers may need to provide support to get the activity started or provide encouragement as seniors with COPD go through those steps and complete those important tasks.
Get Help with Non-Medical Care for Seniors with COPD
Often, having help with non-medical care tasks can make life easier for both seniors with COPD and their caregivers. At Senior Helpers Bonita Springs, we provide in-home care for seniors in Naples, Bonita Springs, Estero, and Marco Island. We can help with a variety of daily care tasks, from offering assistance with meal prep to offering respite care for caregivers of seniors who may need additional attention. We can also offer companionship services that can help with daily activities and socialization. Contact us today to learn more about the care we can provide.