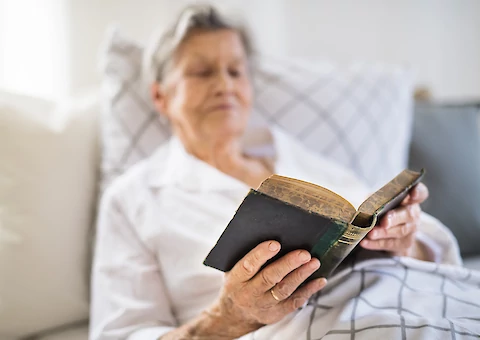 Caring for a bedridden senior loved one can be challenging, but it's important to keep them engaged and happy during this time. Staying occupied can significantly improve their mental and emotional well-being and can make a world of difference in their overall quality of life. 
That's why Senior Helpers Bonita Springs put together this helpful guide, filled with gift ideas and hobbies that are perfect for seniors who are temporarily or increasingly spending time in bed. Our goal is to help you brainstorm different activities and types of engagement that cater to a wide range of interests and abilities.
Reading Materials
Keeping a bedridden senior engaged can start with providing them with a variety of reading materials. Large-print books, audiobooks, and e-readers are great options for seniors with limited mobility. 
Even magazines and newspapers can help them feel connected to the world and stay up-to-date with current events. Discover which format suits their preferences best and use this to create a custom reading list that caters to their interests.
Puzzles and Games
Puzzles and games are another wonderful way to keep a bedridden senior engaged and entertained. Crossword puzzles, Sudoku, and jigsaw puzzles can provide cognitive stimulation, while board games or card games adapted for limited mobility can offer social engagement. Research different games and select ones that not only challenge your senior loved one but also bring them joy.
Arts and Crafts Supplies
Creativity can be a powerful outlet for seniors who are bedridden. Providing them with art and craft supplies can help them explore their talents or learn new skills. You might consider sketchpads and drawing materials, adult coloring books, knitting or crochet supplies, beading or jewelry-making kits, or even painting supplies. Encourage your senior loved one to find an artistic hobby that resonates with them.
Music and Audio Entertainment
Music and audio entertainment can also bring happiness and engagement to a bedridden senior. CDs, digital music subscriptions, podcasts, or radio shows can provide countless hours of entertainment. You could even introduce them to musical instruments adapted for limited mobility, such as a harmonica or a small keyboard. Local music therapy programs might be available for seniors who could benefit from a more structured musical experience.
Senior-friendly Technology
Incorporating technology and gadgets into your senior's daily routine can also provide mental stimulation and entertainment. Tablets or laptops can be used for browsing the internet, watching movies, or video chatting with loved ones. 
Voice-activated assistants, such as Amazon Echo or Google Home, can help seniors feel more independent by enabling them to control their environment through simple voice commands. Adaptive gaming consoles or controllers, as well as virtual reality headsets, offer immersive experiences that can keep your senior loved one engaged for hours.
Discover Compassionate Caregiving Services
Finding engaging activities for bedridden seniors can greatly enhance their quality of life. It's important to choose activities that cater to their individual interests and abilities and to be patient as they explore new hobbies. 
For those living in Naples, Bonita Springs, Estero, and Marco Island, consider Senior Helpers Bonita Springs for professional and compassionate caregiving services to support your loved one's engagement and happiness while they are bedridden. Contact us to learn more about our senior care services.