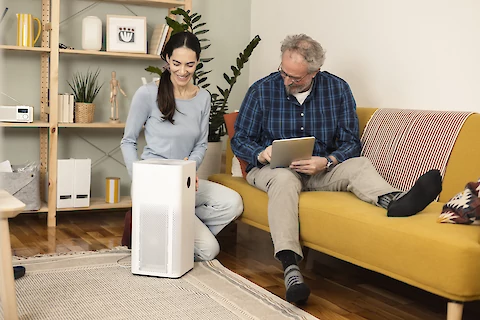 When it comes to caring for a senior loved one with COPD, ensuring that the air quality in their home is as pure and clean as possible should be at the top of your to-do list. This article discusses what COPD is, along with seven easy ways to help improve a home's air quality.
What Is COPD?
COPD stands for Chronic Obstructive Pulmonary Disease, a term used to describe several lung diseases such as emphysema, chronic bronchitis, and refractory (non-reversible) asthma. Symptoms of COPD include shortness of breath, wheezing or coughing that does not stop over time, and difficulty performing daily activities. 
Easy Ways to Improve Air Quality in Your Home
To help reduce your senior loved one's COPD symptoms, here are seven easy ways to improve the air in their home:
1. Clean and Dust
The first step to improving the air quality in your senior loved one's home is simple—regularly clean and dust. Keeping surfaces free from dirt, dust, and other debris will help reduce pollen, pollen-caused allergies, and bacteria. When you vacuum carpets on a regular basis, it helps remove dust that gets trapped beneath the carpet fibers. 
2. Change Air Filters 
Make sure to keep replacing air filters in your senior loved one's HVAC system according to the manufacturer's instructions. Most filters should be replaced every three months, while some can last up to a year. Have your senior loved one's HVAC system checked by a professional every six months or so for optimal performance.
3. Keep the Humidity Level Low
Increasing the humidity in a home can have many negative consequences, including encouraging mold and mildew to grow. Too much humidity inside your home also affects your senior loved one's lung health as it can lead to more congested breathing. 
4. Use Air Purifiers
Air purifiers are essential to improving the air quality in your senior parent's home. They help capture and remove airborne pollutants, dust mites, pollen, and other particles that could worsen COPD symptoms. 
5. Open Windows and Air Out the House
Instead of relying solely on air purifiers to improve the air quality in your senior loved one's home, you can open the window for a few hours in the morning and evening. This helps release built-up indoor pollutants that could be causing breathing issues.
6. Avoid Smoking Inside
Smoking should be avoided altogether in an indoor area where someone with COPD lives or visits. If your senior loved one does smoke cigarettes, remind them to always smoke outside and to shut the windows before coming back into the home. This way, no second-hand smoke is entering indoors. 
7. Use Green Cleaning Products
Green cleaning products are a great way to not only keep the home tidy but also help improve air quality. Choose natural, organic cleaning solutions with no chemical additives or scents that can irritate the lungs and cause breathing difficulty. 
Senior Helpers Dover, DE, Can Help Your Senior Loved One
COPD can cause a range of health issues, including difficulty breathing and managing the effects of poor air quality. By implementing small changes to your senior loved one's home in Dover, Middletown, Seaford, Georgetown, and Lewes, you can improve their lung health while creating a safer and cleaner environment for them. Senior Helpers Dover, DE, can help with daily tasks, including light housekeeping, to keep the dust at bay. Reach out to us now!