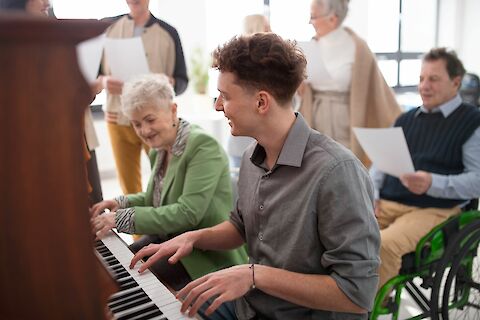 5 Benefits of Giving Back to Seniors During the Holiday Season
The holidays are a time for giving, for celebrating with family and friends, and for sharing your blessings with those less fortunate. People from all walks of life deserve to be provided for and cared for, especially during National Giving Month. Some of the individuals that may be in particular need of extra help during the holidays are the seniors in your community. Despite your very busy schedule, consider giving back to seniors this month. You might find that both you and your family can experience unexpected benefits from spending time with the elderly.  
Gaining Companionship
Providing companionship can help both you and the seniors you share time with prevent a feeling of loneliness and isolation. As we age, we start to lose friends and family members, and having fewer people to connect with can leave one feeling very alone. Winter already limits opportunities for social interaction due to inclement weather and limited sunlight, so spending time with some local seniors could brighten both your and their days.
Meeting Unspoken Needs
By volunteering your time with the elderly at senior centers within your community, you may come across individuals that have needs that are not being met. These senior citizens may feel embarrassed or ashamed of asking for help and choose to just get by with what they have. Spending time with these people may create a camaraderie that allows them to feel comfortable asking for help with food or fixing things around their home. You may also simply notice that something needs fixing and be able to connect them with a service to meet this need.
Learning New History
The senior community is rich with history that you may never get the opportunity to learn about if you do not spend time getting to know these individuals. Spend a little extra time with your own elderly loved ones or visit some local senior living communities to hear some fascinating tales of events that occurred before you were born, and then carry these stories with you to share with your own family now and when you become a senior yourself.
Feeling a Sense of Purpose
Volunteering and having someone looking forward to your visits is a great way to establish a sense of purpose in your life. It's easy to get bogged down by busy day-to-day chores and activities, but it's important to also have interests and pursuits that provide a purpose or reason to get out of bed on particularly tough mornings. Knowing that you will be visiting can give the seniors you are spending time with a sense of purpose for their days as well.
Learning New Skills
A mutually advantageous benefit of volunteering your time with the elderly is that they may be able to teach you and you may be able to learn new skills. If you have been looking to learn how to sew, knit, woodwork, or do some other hobby, you may be able to learn from a local senior who would love nothing more than to teach you their tried and true tricks of the trade.
Looking for More Ideas?
If you want to volunteer your time with the elderly but do not know where to start, Senior Helpers Dover DE may be able to help you out. We may be able to connect you with seniors in your area or direct you to a place to find more information. Senior Helpers provides in-home senior care services such as help with hobbies, transportation, and meal preparation. If you are in the Dover, Middletown, Seaford, Georgetown, or Lewes areas, contact us to see how we can help you help others.