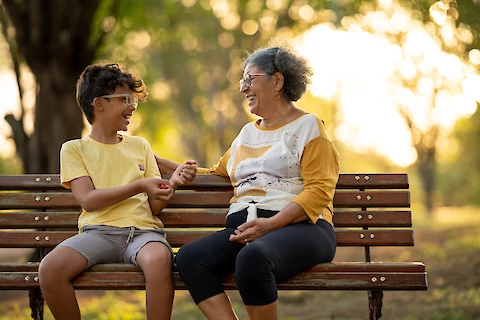 Sharing cherished moments from your school days with your grandchildren can be an incredibly rewarding experience. Not only does it help solidify the bond between generations, but it also offers a unique opportunity for you to impart wisdom and knowledge to the younger ones. However, many seniors often wonder how they can make these memory-sharing sessions engaging and fun for both parties. Explore some creative ways for you to share your school memories with your grandchildren and create a long-lasting bond.
The Importance of Sharing School Memories
Sharing school memories with your grandchildren is more than a trip down memory lane. It's a chance to bond and strengthen your relationship, and an opportunity for you to offer them a glimpse into your past. 
Share Your Favorite Books From Your Childhood
Sharing books you loved during your school days is a great way to start. Don't worry too much about finding the exact editions you enjoyed as a child. Instead, focus on the storytelling aspect. Whether it's a novel you read in high school or a children's book you adored in your early years, read it to them or encourage them to read it themselves if they're older. While sharing these books, also share why they were your favorites and how they influenced your school life. This will make the reading session more personal and memorable.
Encourage Questions
School memories aren't just about telling stories, they're also about having shared conversations. Encourage your grandchildren to ask questions about your school experiences, your friends, your teachers, or even the fashion trends during your time. This way, it's not a monologue but a dialogue, which is more engaging for the child.
Create a Visual Timeline
Creating a visual timeline of your school years is another exciting project you can undertake with your grandchildren. Gather your old photos, report cards, and other memorabilia from your school days, and arrange them chronologically. This hands-on activity is not only fun, but it also provides a tangible timeline of your school life.
Play Games
Playing games is another fun way to share your school memories. Trivia games about the time period when you were in school, or role-play games based on your school scenarios can be quite enjoyable. You get to impart knowledge while keeping it light and fun.
Other Ideas
Other creative ways to share your school memories could include making a scrapbook or photo album together, watching movies or shows set in the time when you were in school, or cooking and baking favorite school-time snacks. These activities not only establish a connection to your past but also create new memories with your grandchildren.
Get Help From Senior Helpers Dover DE
Sharing school memories with your grandchildren can be an enriching experience for both of you. It presents a unique opportunity to pass down family history and life lessons while creating a deeper connection.
Remember, you're not just sharing stories; you're sharing a part of yourself. If you need help facilitating these connections or need assistance in your day-to-day life, Senior Helpers Dover DE is here to help. We serve seniors in Dover, Middletown, Seaford, Georgetown, and Lewes. Contact us today to learn more about our services and how we can support you in creating meaningful bonds with your loved ones.