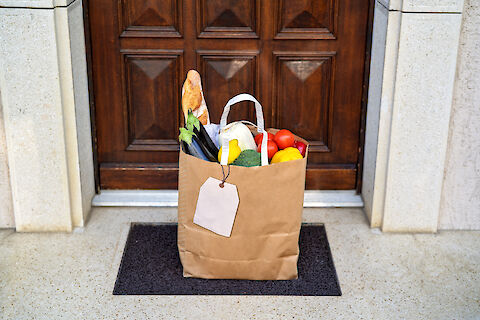 In today's busy world, caring for our senior loved ones can be quite challenging. This is especially true when faced with juggling groceries and other essential tasks on top of everything else. Thankfully, grocery delivery and contactless shopping services are here to save the day!
This handy guide will explore the many benefits that convenient delivery services offer, including making your life easier, saving precious time, and most importantly, minimizing exposure to germs. Here's what you need to know.
Importance of Grocery Delivery and Contactless Shopping for Caregivers
There's no denying that as caregivers, we're always looking for ways to ensure our senior loved ones are getting the best possible care. Utilizing grocery delivery and contactless shopping services can significantly streamline your responsibilities. Firstly, these services can make your life significantly easier. Say goodbye to the stress of maneuvering crowded aisles and long checkout lines at the grocery store. The work will be done for you.
Moreover, these services save you some precious time that can be better spent. Remember, as a caregiver, your attention and care are the most valuable commodities to your senior loved ones. Plus, in times like now where people and germs are ever-present, reducing exposure to pathogens becomes paramount. These services enable you to maintain necessary safety measures and ensure your loved ones are shielded from potential infections. 
How to Find Reliable Grocery Delivery and Contactless Shopping Services 
Finding reliable services for grocery delivery and contactless shopping doesn't have to be a daunting task. Start by researching local businesses in your area and their offerings. Look out for reviews and ratings to gauge their reliability. 
Next, shift your attention to user-friendly apps or websites. Many supermarkets and local stores have their own delivery services, which are often integrated into their websites or dedicated apps. These are designed to make grocery shopping as easy as a few clicks, saving you effort and time. Instacart is a popular option because it allows you to shop from multiple stores nearby.
Additional Advantages of Using Grocery Delivery and Contactless Shopping Services 
Aside from convenience, these services come with a plethora of advantages. They help reduce physical strain for both you and your senior loved ones. This is especially beneficial if your loved ones have mobility issues. They can also assist in managing the dietary needs of seniors by providing a wide selection of grocery items right at your fingertips. 
Connect With Senior Helpers Dover DE
Taking care of our senior loved ones is a task we undertake with love and dedication. By incorporating grocery delivery and contactless shopping services into your caregiving routine, you are not only making your life easier but also ensuring the safety and well-being of your elder family members.
If you're in Dover, Middletown, Seaford, Georgetown, and Lewes, Senior Helpers Dover DE is always here to lend you a supportive hand. Let's continue to provide our seniors with the love, care, and support they deserve, starting with their groceries! Contact us for assistance.