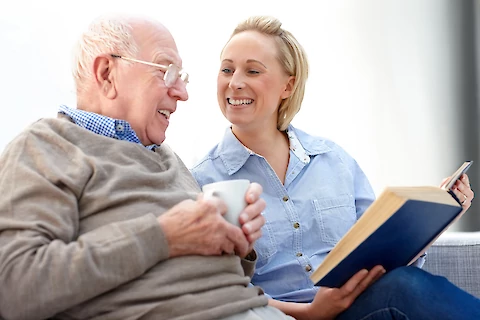 As a senior caregiver, it's easy to become overwhelmed by the emotional and logistical challenges of your role. One way to gain insights and support without attending in-person support groups is through reading. Whether you're seeking practical tips or simply wish to feel more connected to others in a similar situation, books can be a valuable resource. Let's explore this carefully curated selection together.
Nonfiction Books
The 36-Hour Day by Nancy L. Mace and Peter V. Rabins is a must-read for caregivers, as it serves as a comprehensive guide to dealing with dementia and Alzheimer's. This book provides valuable tips and advice for navigating the unique challenges these conditions present while empowering caregivers with knowledge and understanding.
Another essential nonfiction book is Caring for Yourself While Caring for Your Aging Parents by Claire Berman. This practical guide offers caregivers strategies for dealing with the emotional and logistical challenges of caregiving, such as handling health issues, financial concerns, and managing the caregiver's own emotions.
The Emotional Survival Guide for Caregivers by Barry J. Jacobs addresses the emotional challenges of caregiving head-on, offering coping strategies and support to help caregivers maintain their own emotional well-being. This book helps caregivers navigate feelings of guilt, stress, and resentment, emphasizing the importance of self-care and support.
Lastly, Boundaries by Dr. Henry Cloud and Dr. John Townsend is an invaluable resource for caregivers learning to establish and maintain healthy boundaries in their caregiving role. Preventing burnout is essential, and this book offers practical guidance and advice for setting limits and maintaining a balanced life.
Fiction Books
Fiction books are a great way to process your feelings and see how others have dealt with similar circumstances to the ones in which you find yourself. 
Still Alice by Lisa Genova offers a unique insight into the mind of someone with Alzheimer's, telling the story of a Harvard professor's journey through early-onset Alzheimer's disease and how it impacts her family. This poignant novel provides a deeper understanding of the condition, helping caregivers empathize with their loved ones.
The Memory Keeper's Daughter by Kim Edwards explores the impact of caregiving on family dynamics, focusing on a family's secret and the consequences of caregiving decisions. This thought-provoking novel highlights the complexities of caregiving and sparks reflection on the long-term effects of the choices we make.
In Olive Kitteridge by Elizabeth Strout, interconnected stories center around a retired schoolteacher's relationships with friends and family, touching on themes of aging and relationships. This engaging novel encourages reflection on the connections we form throughout our lives and their lasting impact.
A Man Called Ove by Fredrik Backman emphasizes the importance of community and connection in aging, telling the story of a grumpy old man whose life changes when a young family moves in next door. This heartwarming novel is a reminder of the power of human connection and the need for support at any age.
Self-help Resources
Using self-help resources can help improve your ability to cope with challenging circumstances. 
The Caregiver's Toolbox by Carolyn P. Hartley and Peter Wong is a comprehensive resource for caregivers, offering tips, advice, and resources for managing the caregiving role with confidence and ease.
Nancy L. Kriseman's The Mindful Caregiver encourages mindfulness in caregiving, teaching techniques for staying present and focused while providing care. Practicing mindfulness can help alleviate stress and promote overall well-being for both the caregiver and the person they're caring for.
The Conscious Caregiver by Linda Abbit urges caregivers to find meaning and purpose in their role, providing support and encouragement for finding joy and satisfaction in caregiving.
Access More Caregiving Resources
Whether you're seeking practical advice, emotional support, or a deeper understanding of the caregiving experience, these must-read books for senior caregivers can offer valuable insights and connections. Remember, you're not alone in your journey, and resources like these can provide a sense of community and understanding. 
If you're in need of additional support in the Dover, Middletown, Seaford, Georgetown, and Lewes areas, our experienced and compassionate team at Senior Helpers Dover, DE, is here to help. Contact us today to learn more about our senior care services tailored to your unique needs.