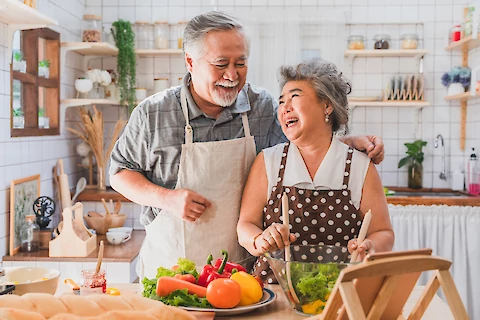 Living a healthy lifestyle is key to continuing to safely age in place and maintain the health many seniors need to enjoy those golden years. And maintaining a heart-healthy diet can help them achieve that. However, this can be especially challenging when you are accustomed to the traditional "meat and potatoes" type meals which have often been linked with various health issues. Fortunately, there are several alternatives out there for those "meat and potatoes" meals.
The Importance of Eating a Heart-Healthy Diet
The risk of developing heart disease increases with age, which makes it even more important for older adults to practice preventive measures, including following a heart-healthy diet. Eating meals rich in fruits and vegetables can help stave off many illnesses because of their antioxidant properties. On the other hand, eating foods that contain Omega-3 fatty acids (such as salmon), whole grains, or other complex carbohydrates like sweet potatoes may help reduce LDL levels while increasing HDL "good" cholesterol levels – thus aiding in maintaining a healthy heart over time. 
How to Make a Heart-Healthy Diet Out of the Traditional "Meat and Potatoes" Meal
Although substitutes for traditional "meat and potatoes" dishes may not seem appetizing, they can still be delicious and comforting. Here are some ways to make flavorful dishes with meat and potato alternatives.
Look for lean proteins sources to replace red meat such as chicken, turkey, beans, and legumes 
Replace white potatoes with whole grains or starchy vegetables like sweet potatoes. 
Increase intake of fresh fruits and vegetables. 
Use healthy fats instead of saturated fats such as olive oil or avocado oil. 
These simple swaps can go a long way toward making your favorite meat and potato dishes more healthy. 
Examples of Heart-Healthy Alternatives to Traditional "Meat and Potatoes" Meals
Here are some tasty, heart-healthy twists on the classic "meat and potatoes" meals. 
Grilled Salmon with Brown Rice and Steamed Vegetables
Baked White Fish with Sweet Potatoes and Roasted Brussels Sprouts
Lentil Stew with Brown Rice and Roasted Root Vegetables
These types of dishes can provide plenty of flavors while decreasing saturated fats, cholesterol, and other harmful stuff in your meals. Additionally, these recipes make use of healthy fat sources that could help positively improve your lipid profile over time.  
Do You or a Senior Loved One Need More Help at Home?
As seniors age, it can become increasingly difficult for them to take care of common tasks around the house, including things like meal prep. At Senior Helpers Stamford, we help seniors in Fairfield County, Westport, Norwalk, Stamford, and Greenwich with basic tasks of daily living, from help with self-care tasks to helping around the house. We also provide companionship services, overnight care, and more. Contact us today to learn more about the services we can provide.