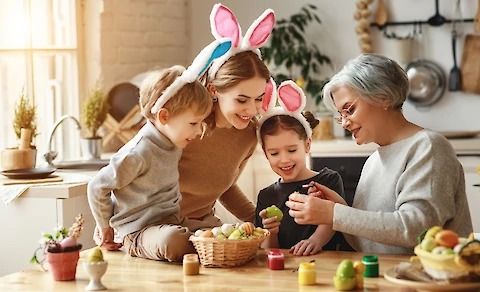 Easter is a time to come together with family and loved ones to celebrate the joy of the season. This Easter, why not celebrate with a fun and creative multi-generational activity? Senior Helpers Stamford, an in-home senior care company located in the Fairfield County area, put together a list of four activities that are sure to bring joy to all ages. From traditional egg hunts to Easter-themed crafts, each activity is sure to be a crowd-pleaser. Read on to learn more!
1. Traditional Egg Hunt
This classic activity is sure to put a smile on everyone's face! Gather together the eggs, supplies, and prizes you'll need for your egg hunt. Then, divide the group into teams and let the egg hunt begin! If you'd like to add a little children-friendly competition to the mix, you can assign points to each egg found and keep score. To make the game a little more challenging, hide other items like plastic coins or small chocolates inside the eggs.
2. Preparing Easter Brunch
Nothing says Easter like a delicious brunch with family and friends! Whether you're looking to cook an old family recipe or create something new, this is a great opportunity to involve everyone. Ask the kids to help decorate the table while the adults in the family work in the kitchen. Once brunch is ready, sit down and enjoy each other's company over delicious food and conversation.
3. Easter Egg Roll
This family favorite dates back to the mid-1800s. To get ready for your Easter egg roll, fill plastic eggs with treats like candy or coins, then hide them around the area. When it's time to play, divide the players into teams and have them race the eggs down a designated track, with the first team to reach the finish line winning the game!
4. Easter Crafts
From painting eggs to making Easter bonnets, there are plenty of fun and creative crafts to do with the kids. Create a station with all of the materials needed and let everyone go to town. Store-bought craft kits are great, but there are also plenty of homemade Easter craft ideas that can be just as fun. Adults will have just as much fun as kids!
Senior Helpers Provides Best-In-Class Senior Care
Easter is the perfect time to come together with family and friends. To make your Easter extra special, try one of these fun multi-generational activities. Of course, when in doubt as to a specific activity, you should ask your senior loved one how they feel about it. It is vital that everyone feels included at special holiday events. A little bit of planning and attention to detail will ensure that everyone in your family has a great time this Easter and every year!
At Senior Helpers Stamford, we understand how important family is. We are here to help make your Easter celebration a memorable one for you and your senior loved ones in Westport, Norwalk, Stamford, and Greenwich. For more information about our services, please contact us today!