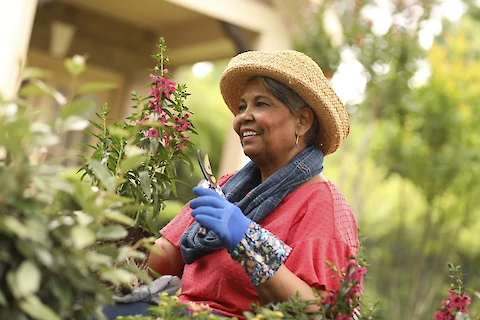 It's no secret that gardening and plant care can hugely benefit seniors. As a family member, friend, or professional caregiver, you should understand the benefits that these activities can bring to elderly relatives. However, not all gardening tasks are easy. And sometimes, your senior loved one might need help to do it. This blog will discuss the various benefits of hiring a caregiver to help seniors with their gardening and plant care needs. 
Why Gardening and Plant Care is Great for Seniors
Gardening and plant care provides an excellent opportunity for seniors to participate in a calming, therapeutic activity that helps reduce stress and anxiety. Research has even shown that plant care can positively affect cognitive abilities and help fight age-related dementia. There are physical benefits, too. Gardening helps seniors stay active and flexible and helps to improve coordination and balance, which helps prevent injuries and accidents. 
There are social benefits as well. Working in a garden or caring for a plant can help seniors connect with others and provide an opportunity for social interaction. Gardening can also be a great source of joy for seniors, providing them with a sense of accomplishment and satisfaction.
The Benefits of Hiring a Caregiver to Help With Plant Care
Seniors may find it difficult to garden or care for plants on their own. For seniors with limited mobility or other physical restrictions, it might not be possible to take care of plants independently. Hiring a caregiver to help can provide the support they need to enjoy gardening and plant care still.
Caregivers can teach seniors about plants and gardening. They can offer additional expertise in plant care, helping seniors to make sure their plants receive the care they need.
Gardening with a caregiver can be a source of comfort and companionship. Spending time with a caregiver can give seniors a feeling of connection and friendship, helping to lift their spirits and provide them with a sense of purpose and joy.
Do your research and find a reputable caregiver. Find someone who is a good fit for your loved one. This means someone who is patient, kind, and understanding. Be sure to ask about their garden and plant care experience!
Looking For Help With Gardening and Plant Care?
Gardening and plant care can be an excellent way for seniors to stay active and engaged, even when physical limitations make it challenging to do independently. The benefits of hiring a caregiver to help with plant care are numerous, and companionship can be invaluable for seniors. If you're looking for an in-home senior care company to help elderly relatives with their gardening and plant care needs in Fairfield County, Westport, Norwalk, Stamford, and Greenwich, consider Senior Helpers Stamford. Our experienced caregivers can help provide the support and companionship your elderly loved one needs to enjoy the activity they love!