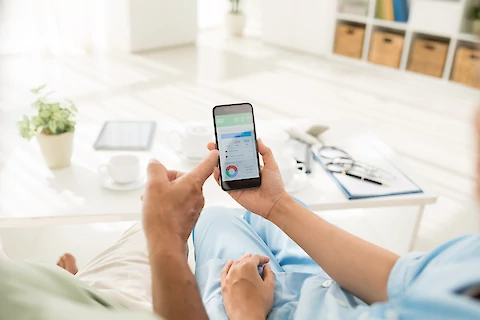 Smartphone apps are effective tools for tracking health data and helping seniors stay fit. Tracking overall fitness and nutrition can help promote healthy aging, while monitoring conditions like blood pressure, heart rate, and medications can prevent illnesses that may otherwise be undetected. For caretakers of seniors or those with chronic conditions, these applications also provide much-needed peace of mind as they are able to monitor their loved one's healthcare information from any device at any time. There are an increasing number of intuitive smartphone apps available that provide valuable insight into health statistics, which allows caregivers to create healthier habits for themselves and their elderly relatives. 
The Benefits of Using Smartphone Apps to Track Health Data for Seniors
Smartphone apps that track health data provide numerous benefits to seniors and those who care for them. By allowing users to keep an eye on diet, physical activity, vitals such as blood pressure and heart rate, medications, and other important health indicators like sleep quality, these applications help identify potential issues early, before they become serious or require medical attention. Furthermore, technology makes it easier than ever to stay informed about one's own health or the health of a loved one—enabling caregivers to monitor progress from anywhere in the world with ease. 
Additionally, increased access to information helps promote healthier habits overall since seniors are able to make more educated decisions about their healthcare needs based on individualized data input directly by them. 
Smartphone apps dedicated to monitoring health data can also provide critical insights for doctors and other caregivers, which may make it easier to ensure that seniors get the high standard of care they need as they manage increasing medical conditions. 
Popular Smartphone Apps for Seniors
There are several smartphone apps that seniors and their loved ones use on a regular basis to help track health and wellness. 
A Caregiver Can Help Improve Overall Health
As caregivers and seniors find themselves worrying more about senior help, it can prove beneficial to have a senior care provider who can visit that senior in their home and provide them with assistance with eating healthy, getting out for regular exercise, and taking care of basic self-care tasks. While apps can provide peace of mind, a caregiver can provide real insights into how a senior loved one is actually functioning. For seniors in the Fort Collins, Loveland, Greeley, Wellington, Windsor, Estes Park, and Longmont areas, Senior Helpers Greeley can help. Contact us today to learn more about our in-home care services.