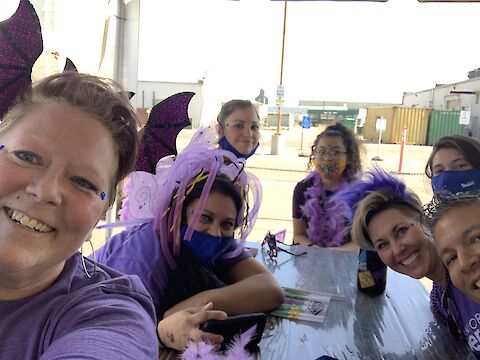 Join Our Team for the Walk to End Alzheimer's!
Alzheimer's and other dementias are horrible diseases that prevent older adults from aging gracefully and comfortably. As a senior care agency, we've seen dementia affect many individuals and their families. Not only does the disease cause confusion and obstacles for the client, but it also causes pain for family and friends of the client. 
Supporting the Alzheimer's Association
Ultimately, 1 in 3 seniors dies with Alzheimer's disease or another form of dementia. With rates so high, it's pertinent to find a cure. The Alzheimer's Association is the leading organization to find a cure for Alzheimer's and dementia. That's why we Walk to End Alzheimer's. Our hope is that, one day, dementia can be cured. 
Our Clients with Alzheimer's and Dementia
In our industry, we've seen dementia in all its forms. Some of our clients are happily lost in time while others hallucinate strangers in their homes or experience paranoia. For the most part, dementia is difficult to experience and every day is different. 
Whether your loved one lives at home with dementia or lives in a memory care unit, there are struggles with the disease. Many of our clients feel very lonely because they can't remember when they had visitors last. Other clients feel overwhelmed or confused because they are unsure when to eat, sleep, or use the bathroom. 
Whatever your experience, watching a loved one go through Alzheimer's or dementia can be extremely difficult. If you are going through this experience and need a set of helping hands, resources, or just someone to talk to, you can always call us at Senior Helpers. Our phone number is 970-658-8228. 
Join Our Walk
This year, we are walking to end Alzheimer's in Larimer and Weld Counties! If you support our cause, we would love to have you join our team! Join us on October 2 at Downtown Lincoln Park in Greeley for the Weld County Walk. If you live in Larimer County, join us on October 9 at Chapungu Sculpture Park in Loveland for the Larimer County Walk. If you don't want to walk, you can also donate to our team to support Alzheimer's research!