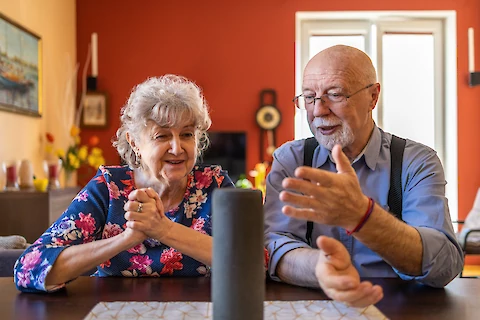 Today, the advancements in smart home technology allow people of all ages to simplify their lives and stay connected. For seniors, this technology also offers the potential for enhanced safety and independence. This post discusses a variety of smart home devices, such as voice-activated assistants, smart thermostats, automated lighting systems, video doorbells, and medication reminders. We'll explain how these innovative devices help prevent falls, improve the overall quality of life, and allow seniors to live with greater peace of mind, whether alone or with a caregiver's support. 
Voice-Activated Assistants
Voice-activated assistants like Amazon Echo and Google Home represent one of the most popular forms of smart home technology. These devices allow seniors to control various aspects of their homes using simple voice commands, making it much easier to access information, set reminders, and enjoy their favorite entertainment. Voice-activated assistants also play a role in preventing falls by allowing seniors to turn lights on and off without needing to reach for a switch physically. Additionally, you may program these devices to give medication reminders, ensuring seniors never miss a medication dose.
Smart Thermostats
Smart thermostats, such as Nest and Ecobee, offer a range of benefits that are particularly helpful for seniors. These devices learn your preferred temperature settings and automatically adjust to maintain a comfortable environment, ultimately saving energy and reducing utility bills. Seniors may also remotely monitor and control their thermostats using a smartphone or other connected devices, providing peace of mind and the ability to address potential issues before they become serious problems. By maintaining a consistent home temperature, seniors can ensure greater comfort and promote better overall health.
Automated Lighting Systems
Automated lighting systems, like Philips Hue and Lutron, allow for customizable lighting schedules and the ability to control lights remotely. This type of automation makes homes more accessible for seniors and helps prevent falls by always ensuring appropriate lighting levels. Motion-activated lights illuminate a pathway to the bathroom at night, allowing seniors to navigate their homes safely without fumbling for a switch in the dark. By improving visibility and accessibility, automated lighting systems contribute significantly to the safety and independence of seniors.
Video Doorbells
Video doorbells like Ring and Nest Hello help provide an added layer of security. These devices allow seniors to see and communicate with visitors without opening doors, offering convenience and safety. Plus, video doorbells send notifications to a senior's smartphone or other connected devices when someone approaches their home, so they're always aware of their surroundings and potential threats. This technology empowers seniors to feel confident and secure while living independently, even in an increasingly connected world.
Medication Reminders
Medication adherence is a critical component of senior health, and smart medication reminder devices like MedMinder and TabSafe play a significant role in ensuring seniors take their medications as prescribed. These devices provide visual and auditory alerts when it's time to take a dose and help to prevent medication errors by locking away untimely doses. By streamlining the medication management process and reducing stress and confusion, medication reminders contribute to the safety and independence of seniors, allowing them to maintain control over their health.
Tips for Choosing the Right Technology
When selecting smart home technology, assessing individual needs and preferences, budget, and ongoing costs is important. Research device compatibility with existing systems, and don't hesitate to seek professional guidance if needed to make the best choices for your unique situation.
We Can Help
Smart home technology offers a wide range of benefits for seniors, from increased safety to improved quality of life. If you or a loved one in Fort Collins, Loveland, Greeley, Wellington, Windsor, Estes Park, or Longmont could benefit from additional support in maintaining a safe and independent lifestyle, get in touch with Senior Helpers Greeley. Through our senior care services, our team can help you navigate the ever-evolving world of smart home technology and embrace the benefits to improve your life. Contact us today for a consultation.