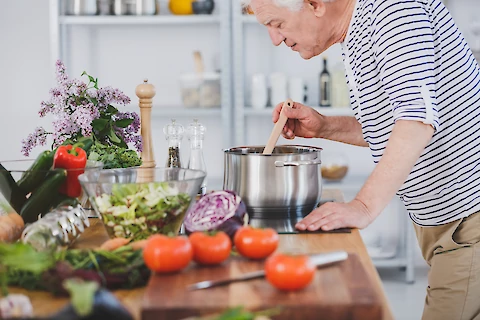 Slow Cooking 101: Easy Healthy Meals for Busy Retirees
Retirees who are constantly busy and on the go may find it challenging to get the time and cook. However, with the convenience of slow cooking, seniors can conveniently cook one-pot meals, soups, casseroles, and stews. This is also the go-to option for seniors who want to eat hearty meals requiring little attention and preparation.
The blog post highlights the benefits of slow cooking, ways to switch up meals to avoid boredom, and meals for busy seniors to try. 
An Overview of Slow Cooking and its Benefits
Slow cooking is a technique used to prepare food over a long period. The cooking method infuses flavors gradually while simmering meals on low heat. Slow cooking also offers the following benefits:
It is cost-effective. Having a meal at home eliminates the temptation to order takeout, and thus it reduces food expenses. 
Saves preparation time. Slow cooking allows for one-step preparation. Busy seniors can place all the ingredients in the cooker at once. 
Slow cooking helps bring out the flavor in meals. Slow cooking allows food to retain a flavorful taste over time. 
Slow cooking uses less electricity. Compared to the oven, slow cookers utilize less electricity. 
Tenderizes tough meat. After a long time of cooking, tough-cut pieces of meat become tender. 
Allows for flexibility. The advantage of slow cooking is that it does not require one to be there to do it. Busy individuals are only required to set the timer and get the food ready when they arrive back home. 
3 Ways to Switch Up Flavors, do Meals Do Not Get Boring
Eating the same food repeatedly can get boring. Here are ways seniors can switch up flavors:
1. Explore global different cuisines
Seniors can try Italian, Asian, Mediterranean, Mexican, as well as Spanish flavor profiles to avoid food boredom. 
2. Seek out new ideas
Social media platforms such as Instagram and Pinterest have interesting recipes to spark creativity. Seniors can Google search ideas that they have never tried and break out of their comfort zone. 
3. Experiment with different spices and fresh herbs
Seniors can add fresh rosemary, cilantro, or basil to their food. They can also mix up spices for marination and rubs before putting them on the slow cooker. 
Three Easy Healthy Meals for Busy Seniors to Try
Pot roast rigatoni stew: This is a fulfilling and satisfying dish with a twist on the classic pot roast.
Sichuan chicken with scallions and baby Bok choy: The Sichuan ingredient gives the chicken dish a distinctive lemony flavor. Find the recipe here.
Slow cooker southwestern bean soup: This soup can be left to simmer the entire workday. Seniors can also add chopped cilantro and squeeze in lime juice if desired.
Food Storage Methods and Tips
There are two ways to ensure the longevity of slow-cooked foods; refrigeration and vacuum packing. Refrigeration is the common food storage method that involves storing food at low temperatures. Fridges can preserve the quality and safety of home-prepared meals because low temperatures prevent the growth of bacteria. Vacuuming extends the storage life of foods by creating an airtight atmosphere that deprives bacteria of oxygen. In fact, chefs mostly use vacuum packing to store specific ingredients and preserve them for future use. 
Food Storage Tips
When storing leftover food, follow the storage tips highlighted below:
Store cooked foods in separate containers whenever possible.
Keep food storage areas dry and cool.
Cover foods using cling film or foil.
Ensure that storage pantries or cupboards are pest-free.
When using storage containers, ensure that they have tightly fitting lids.
Need Professional Assistance?
At Senior Helpers Denver South, we aim to ensure seniors receive the best care. We offer in-home caregiver services in Broomfield, Arvada, Westminster, Thornton, Northglenn, Wheat Ridge, Lafayette, Aurora, Commerce City, and Denver.
Contact us to know more about our services.