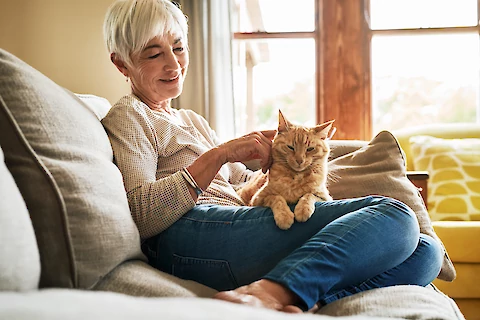 As people age, it can be hard to keep up with day-to-day tasks. And in some cases, it may also be difficult to maintain relationships. For seniors living alone, there's nothing like the unconditional love that a pet can provide for companionship and emotional support. While outdoor pets have numerous benefits such as providing exercise through walking or playing in an open field, indoor-only pets are equally rewarding especially given their manageable size and reduced level of maintenance required by these animals. In this blog post, we will explore the various types of indoor-only pets for seniors who wish to enjoy the companionship of a furry (or feathered!) friend while continuing to maintain independence at home.
Types of Indoor-Only Pets for Seniors
There are several types of small indoor-only pets available for seniors. All of which can provide delightful companionship with minimal effort required from the senior. Some of the most popular choices among include birds, small mammals, and cats.
Birds
Birds are great for seniors due to their small size and quiet nature. By adding a cage and ensuring that the birds are well cared for, they can enhance any living quarters with their beauty and cooing sounds. The many colors, shapes, sizes, and personalities of birds allow individuals to choose the perfect pet according to personal preference.
Some popular breeds among seniors include parakeets, cockatiels, lovebirds, and finches. These tiny feathered companions are also intensely loyal. However, they require commitment since they live between 15-20 years or more depending on the species!
Small Mammals
Small mammals –such as guinea pigs, rats, hamsters, or gerbils—are gentle animals that enjoy being held and require minimal interaction but love when they receive attention. They are perfect for seniors who still value friendship but are not ready for the commitment of a bigger animal. At the same time, these pets offer an interesting range of colors and personalities so individuals can find their own favorite companions.
Cats
Cats are popular indoor pets due to their independent and low-maintenance nature. In fact, they require minimal care in terms of grooming. This makes them the perfect indoor-only pets for seniors who want a great companion without a lot of effort. In addition, cats can enjoy watching birds, chasing toys or simply taking a nap on the couch with their humans!
Senior Helpers Offers Top-Quality In-Home Care
For seniors looking to enjoy the companionship of a pet while improving their mental health, owning an indoor-only pet is highly recommended. If you or a loved one is considering adding a furry friend to your home, make sure to research carefully. Also, make sure to consider all the requirements before choosing a companion!
Senior Helpers Denver South offers premium in-home care services to seniors in Broomfield, Arvada, Westminster, Thornton, Northglenn, Wheat Ridge, Lafayette, Aurora, Commerce City, and Denver areas who want assistance maintaining their quality of life. Contact us today to learn more about our services!