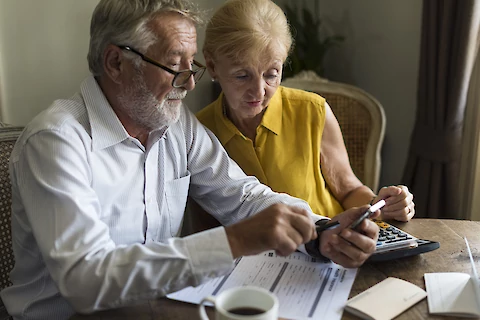 Tax season can be a stressful and complicated time for everyone, especially seniors. With tax season in full swing, now is the time to prepare for those tax filing deadlines and deductions. To help seniors during this process, financial planning and tax planning are very important elements that should not be overlooked.
Senior Helpers Denver South is here to provide assistance through tax preparation and connecting seniors with available resources.
Tax Deadlines for Seniors to be Aware Of
Just as it is vital for other taxpayers to meet their filing deadlines, seniors should also be aware of their due dates. Generally, the deadline to file a tax return and pay taxes owed in the US is April 18th in 2023. However, in some scenarios and for some individuals, extensions are available. Seniors should speak to their tax professionals if they are curious about these deadline extensions.
Tax Deductions for Seniors
The IRS recommends that seniors look into particular tax deductions that they may qualify for. This can include medical care, prescription costs, and more. Depending on the senior's income and other factors, these potential deductions may help them save money at the end of the year. The key is to do research in advance. This helps make sure all paperwork is organized so filing taxes can be done smoothly.
Benefits of Financial Planning and Tax Planning for Seniors
Seniors must plan for their financial security in each tax season since retirement costs and other long-term expenses can add up quickly. An expert in the field of financial planning has the necessary knowledge to help seniors create a strategy that helps them meet their goals. Having a comprehensive tax filing strategy will ensure that all sources of income are accurately recorded and that any potential deductions or credits have been taken advantage of.
Financial Resources for Seniors
Seniors should speak with a tax professional at least once a year to ensure that they are up-to-date on the latest changes in tax codes or regulations. If they need some additional help in managing their finances, they should get in touch with a financial planner. That way, they can thoroughly understand how they can meet their own goals and prepare for tax season.
Reach Out to Senior Helpers for Resources
Tax filing season is a stressful but manageable time for seniors. It's important to familiarize tax codes, deadlines, and deductions that may help them get the most out of their finances. With proper tax preparedness and financial planning, seniors can navigate this process smoothly.
Here at Senior Helpers Denver South, we provide the best possible care for our senior clients in the Broomfield, Arvada, Westminster, Thornton, Northglenn, Wheat Ridge, Lafayette, Aurora, Commerce City, and Denver areas. We can help them have peace of mind when it comes to their taxes and finances. Contact us today to learn more about our in-home care services.