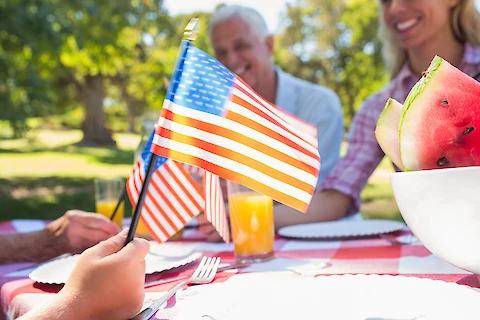 Memorial Day holds a special place in many hearts as a time to honor and remember those who served and made the ultimate sacrifice for our country. As the holiday approaches, it's essential to involve our senior loved ones in the celebrations, creating cherished memories and fostering a sense of connection. From attending local events to sharing heartfelt stories, there's no shortage of creative yet respectful ways to commemorate this significant day together.
1. Attend Local Events
Whether it's attending a solemn ceremony or watching a vibrant parade, Memorial Day offers numerous opportunities for seniors to actively participate in local events. Accompany your senior loved one to parades, memorial services, or concerts held in your community. These events not only provide a chance to pay respects to those who served but also create special memories with your senior family member.
2. Share Stories
Memorial Day is a perfect occasion to reminisce and share stories about family members who served in the military. Encourage your senior loved one to recount their experiences or memories of relatives who served. You can also research your family's military history together, fostering a deeper understanding of your heritage and personal connections to the holiday.
3. Watch War Documentaries
Watching war documentaries or movies can be another engaging way to commemorate Memorial Day. Choose films that are suitable for your senior loved one, considering their personal preferences and attention span. After watching the movies, discuss their significance as well as the impact they had on you and your loved one. This fosters a meaningful dialogue about the sacrifices made by service members.
4. Create a Memorial Display
Creating a memorial display is a touching tribute to the family members who served in the military. Gather photos, medals, as well as other memorabilia and arrange them in a respectful manner. This display can be a source of pride and a conversation starter for your senior loved one. It also provides them with an opportunity to reminisce and share their stories.
5. Make Patriotic Crafts
Crafting can be a fun and therapeutic activity for seniors. Encourage your loved one to create patriotic crafts, such as flags or other decorations, that can be displayed in their home or care facility. This not only allows them to express their creativity but also contributes to the festive atmosphere of the holiday.
6. Visit a Local Veterans' Memorial
A visit to a local veterans' memorial or cemetery can be a poignant and respectful way to observe Memorial Day. Accompany your senior loved one as you pay your respects to the fallen service members and place flowers or flags on their graves. This simple act can provide a powerful sense of connection and gratitude for the sacrifices made by so many.
7. Share a Meal
Sharing a special meal is another way to bring family and friends together on Memorial Day. Prepare traditional foods associated with the holiday as well as invite loved ones to join you in sharing the meal. Use this time to share stories and memories, further strengthening your bonds and honoring the day's significance.
Keep Limitations in Mind
As you plan your Memorial Day celebrations with your senior loved one, it's crucial to keep their physical limitations in mind. Choose activities that are appropriate for their abilities and be prepared to make accommodations if needed. Additionally, always remember the importance of being respectful towards the holiday's true meaning – commemorating and honoring those who served.
Reach Out to Senior Helpers Denver South
Countless creative and respectful ways exist to help your senior loved one celebrate Memorial Day. By involving them in various activities, sharing stories, and honoring the sacrifices made by service members, you can create cherished memories and foster a deep sense of connection.
For those living in Commerce City, Broomfield, Aurora, Arvada, Westminster, Thornton, Wheat Ridge, Northglenn, Lafayette, or Denver, consider reaching out to Senior Helpers Denver South. We can provide support and assistance in making this Memorial Day truly special for your senior family member, as well as companion and care services thereafter. Contact us today to learn more about our in-home care services.