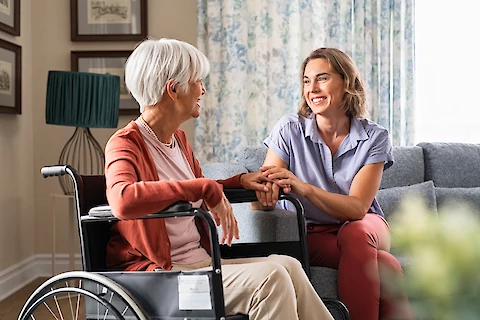 National Caregivers Day, which is recognized every year on February 17, is a day dedicated to recognizing the selfless contributions of caregivers and their extraordinary work in caring for others. It's an important day to show how much you appreciate all that your caregiver does for you or a loved one. This blog from Senior Helpers Denver North will go through what to know about National Caregivers Day and offer up some unique and heartfelt ways that senior adults can show their appreciation to their caregivers.
What to Know About National Caregivers Day
National Caregivers Day is one day out of the year that recognizes everyone who takes on the role of caregiver. This includes those working in professional caregiving services, as well as individuals providing unpaid support to their loved ones. The purpose of National Caregivers Day is to provide thanks and recognition for their service and hard work. 
Ideas for Showing Appreciation to Caregivers
Showing appreciation to your caregiver can come in all shapes and sizes. There are many ways to show support to your caregiver, from acts of kindness to words of affirmation, and even handmade or purchased gifts. Here are some ideas that you may consider to show your gratitude to your caregiver:
Send a handwritten thank you note to express your thanks.
Gift them an item they need, such as a coffee maker or a spa gift certificate. 
Take the time to talk about something other than caregiving topics; ask them how their day was and take an interest in their life outside of caring for you or your loved one. 
Cook dinner or bake sweets for them at home as a way of saying thank you for their hard work. 
Give your caregiver flowers or a sweet bouquet. A potted plant is also a fantastic option that your caregiver can use to beautify their home.
Take note that the type of gift or gesture that you offer your caregiver might also depend on how frequently you receive care. If you have a dedicated caregiver who spends the majority of each day with you, it might not be feasible to give them the day off. On the other hand, if you only see your caregiver a few times a week, that might be a great option. No matter what you choose, be sure to accompany your gift or gesture with heartfelt thanks.
Senior Helpers Provides Senior Caregiving Services
Taking the time to show appreciation is an important part of having a good caregiver/care-receiver relationship. National Caregivers Day is an excellent opportunity to take note and thank caregivers for their commitment and dedication. Whether it's through words or gestures, expressing your appreciation will go a long way toward gratitude and recognition. When it comes down to it, saying something as simple as "thank you" can speak volumes! 
Senior Helpers Denver North offers premier senior care to adults in and around the Denver, Broomfield, Arvada, Westminster, Thornton, Northglenn, Wheat Ridge, Lafayette, Aurora, and Commerce City areas. Contact us today to learn more about our services!