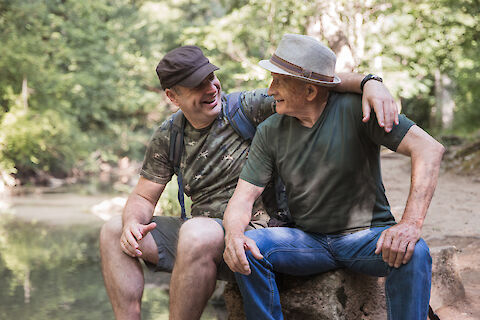 Father's Day is a special time to honor and cherish the bond you share with your dad. As our parents grow older, it becomes even more important to make these occasions memorable and meaningful.
If you're looking for ways to celebrate Father's Day with your elderly father, we've got you covered! Whether it's a cozy day at home or an exciting adventure outdoors, there's something for every father to enjoy.
1. Simple Bonding Moments at Home
Begin by considering simple but meaningful activities you can enjoy with your father in the comfort of your own home. Watching a favorite movie or sports game together can provide a fun and relaxing bonding experience. Alternatively, cook a special meal or bake his favorite dessert together, turning the process into a chance to bond. Reminiscing old photo albums and sharing stories of your favorite memories can be a heartwarming way to connect. Finally, consider playing board games or working on a puzzle together to engage your father's mind while spending quality time together.
2. Outdoor Activities and Outings
If the weather permits and your father is able to venture outside, consider taking a leisurely walk or wheelchair stroll around a nearby park. You can also check if there are any local community events, such as concerts or art shows, which would be of interest to your father. Visiting a local museum or historical site can provide both mental and physical stimulation, while enjoying a picnic in a scenic location can be a relaxing and enjoyable experience.
3. Engaging in Hobbies and Interests
Taking the time to indulge in your father's hobbies and interests can be a great way to personalize your Father's Day celebrations. You could attend a sports game or watch a live performance if that is something your father enjoys. Participating in a painting or pottery class together can be a fun and creative way to spend time together. Additionally, visiting a local garden or nature center can provide inspiration and relaxation. Exploring a hobby or interest-specific store, such as a bookstore or antique shop, can also be a fun outing.
4. Going on Accessible Adventures
For a more adventurous day out, consider taking a scenic drive through the mountains or countryside. In fact, some nature trails and parks even offer wheelchair-accessible paths. This will allow your senior father to enjoy the beauty of the outdoors in a more accessible manner. Riding a historic train or taking a boat tour can provide an enjoyable and unique experience. Visiting a nearby tourist attraction or landmark can also be an exciting and memorable adventure.
5. Pampering and Relaxation
Treating your senior father to a spa day or massage can be a luxurious and much-appreciated gift, allowing him to truly relax and unwind. Enjoying a leisurely brunch or dinner at a favorite restaurant can provide a special dining experience without the need for too much physical exertion. Attending a gentle yoga or tai chi class together can help also help your senior father maintain flexibility and balance while providing a calming environment.
6. Giving Back
If your father is passionate about giving back to the community, consider volunteering at a local charity or community organization. Participating in a charity walk or fundraising event can be a fulfilling and meaningful experience for both you and your senior father.
Give a Special Father's Day Gift This Year
Making Father's Day memorable for your elderly father can be an important gesture of love and care. It can also serve as a wonderful opportunity to strengthen your bond. By taking the time to plan activities that suit your father's interests and abilities, you can create a special day that both of you will treasure.
Give your father the gift of care this Father's Day. For those living in Wheat Ridge, Lafayette, Aurora, or Commerce City, consider Senior Helpers Denver North for professional and compassionate senior care services tailored to your loved one's needs. Contact us today to learn more about our in-home care services.