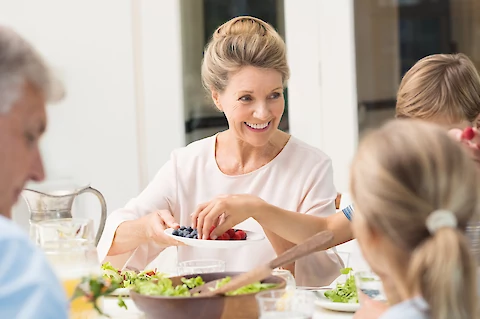 As our loved ones age, proper nutrition becomes increasingly important for their overall health and well-being. Family caregivers play a crucial role in ensuring seniors maintain a well-balanced diet, tailored to their unique nutritional needs. In fact, by improving seniors' dietary habits, caregivers can contribute to a better quality of life for their elderly relatives.
Whether you're an adult child or another family caregiver, join us as we share valuable tips and advice on helping seniors lead healthier, happier lives through good nutrition.
Learn the Nutritional Needs of Seniors
To start, it's essential to understand seniors' unique nutritional needs, which may differ from those of younger adults. Consulting with a dietitian or geriatric specialist can provide valuable insights into the specific requirements of seniors. They can also provide assistance in addressing common nutritional deficiencies in seniors, such as vitamins B12, D, calcium, and potassium.
Make Mealtimes More Enjoyable and Healthy
Making mealtimes enjoyable and healthy for seniors not only involves offering nutritious food options but also creating a pleasant dining atmosphere. Simple touches, like using colorful table settings, can make a significant impact. Encourage socialization during meals by inviting friends or family members to share meals, as fostering positive interactions can help improve seniors' appetites and overall moods.
Serve Smaller, Yet More Frequent Meals
When improving seniors' dietary habits, it's also helpful to serve smaller, more frequent meals. This can be easier for seniors to digest and help maintain their energy levels throughout the day. While preparing meals, keep in mind any dietary restrictions or preferences seniors may have, and always prioritize their comfort and satisfaction.
Carefully Introduce New Foods
Introducing new foods to seniors should be approached with care and patience. Start by offering small portions of new foods, paired with familiar favorites to ease the transition. Also, try presenting a variety of textures and flavors, making meals more appealing and stimulating. Remember that some seniors may be resistant to change or have sensory challenges. It's important to be patient and understanding as seniors explore new food options.
Employ Portion Control Techniques
Portion control is another essential aspect of improving seniors' dietary habits. Using smaller plates and serving utensils can help manage portion sizes, while pre-portioned meals can prevent overeating. Encourage seniors to eat mindfully and listen to their hunger cues, without forcing them to finish everything on their plate.
Keep Nutritious Snacks Handy
Having nutritious snacks readily available can also contribute to a healthier diet for seniors. Fresh fruits and vegetables, whole grain crackers and breads, low-fat dairy products, and lean proteins, such as nuts and seeds, make for excellent snack options. These can provide essential nutrients and help bridge the gap between meals.
Monitor Hydration Levels
Proper hydration is just as important as the food seniors consume. Encourage seniors to drink water regularly throughout the day and offer a variety of hydrating beverages, such as herbal tea or flavored water, to keep things interesting. It's also important to be aware of signs of dehydration, which can include dizziness, confusion, or lethargy. Ensuring adequate hydration in seniors can help prevent the risk of falls, cognitive decline, and other health issues related to dehydration.
Rely on Senior Helpers Denver North for Nutrition Guidance
Proper nutrition plays a pivotal role in seniors' overall health and well-being. Family caregivers have a unique opportunity to help their elderly loved ones embrace healthier dietary habits by making meal times more enjoyable, introducing new foods, practicing portion control, and monitoring hydration effectively. With support and guidance from dietitians and geriatric specialists, family caregivers can help improve their senior loved one's quality of life through better nutrition.
For those living in Aurora, Lafayette, Denver, Commerce City, Broomfield, Arvada, Northglenn, Westminster, Thornton, and Wheat Ridge, consider Senior Helpers Denver North for additional support in caring for senior loved ones. Our compassionate caregivers are dedicated to promoting healthy lifestyles and ensuring the well-being of elderly family members. Contact us today to learn more about how we can help seniors maintain optimal health and happiness.