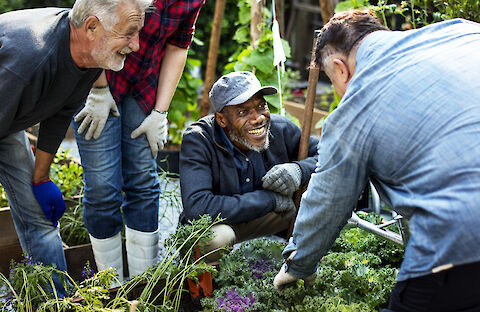 Spring is upon us, and with it comes the perfect opportunity for seniors in the Denver North area to join a community garden project or participate in outdoor activities. Community gardening not only provides access to fresh, locally grown produce but also offers countless mental and physical benefits for seniors.
Mental and Physical Benefits of Community Gardening for Seniors
Participating in a community garden can have a significant positive impact on seniors' overall well-being. Firstly, community gardens encourage social interaction by offering a welcoming space to connect with neighbors and make new friends. This can be particularly meaningful for seniors who may feel socially isolated.
Furthermore, gardening provides a moderate form of physical exercise that can help improve seniors' mobility and overall health. The process of planting, watering, and maintaining a garden can help stretch muscles and boost cardiovascular endurance. Additionally, spending time outdoors in the fresh air and sunshine can boost Vitamin D levels and enhance one's mood.
Lastly, gardening can offer therapeutic mental stimulation and stress relief. Nurturing plants and witnessing their growth can instill a sense of accomplishment and purpose while also serving as a form of meditation and relaxation.
Finding Community Gardens and Garden-Related Activities in the Denver North Area
There are numerous resources available for seniors seeking community gardens and garden-related activities in the Denver North area:
Denver Urban Gardens (DUG)
Denver Urban Gardens is a non-profit organization dedicated to cultivating gardeners, growing food, and nurturing communities. With over 180 community gardens in the Denver metro region, there's likely one near a senior's area. Visit the DUG website to search for community gardens in the area and obtain contact information for garden leaders.
Local Gardening Clubs and Organizations
Joining a gardening club or organization is also a great way for seniors to connect with fellow gardening enthusiasts and stay informed about local gardening events. Here are some for a senior to consider:
Garden Club of Denver. A volunteer organization that promotes knowledge and love of gardening through educational programs, community projects, and fellowship.
Colorado Master Gardeners. A group that offers knowledge, experience, and research-based information to the gardening public.
Colorado Native Plant Society. A non-profit dedicated to the appreciation and conservation of Colorado's native flora.
Other local gardening groups. Check the local community center, senior center, or city government website for information on gardening clubs in your area.
Tips for Joining a Community Gardening Project
When looking to join a community gardening project, seniors should consider the following tips:
Determine your level of commitment and available time. Ensure that joining a garden project will fit within a senior's schedule and capabilities.
Research and visit local community gardens to find the one that best aligns with seniors' interests and needs.
Reach out to garden leaders or organizers to inquire about available plots, membership fees, and any other information relevant to the garden.
Attend a garden workday or meeting to meet fellow gardeners and get a feel of the community before committing to a membership.
Senior Helpers Denver North Partners With Seniors for Healthy Activities
In the vibrant Denver North area, community gardening offers seniors an engaging and fulfilling way to stay active and connected. With an abundance of local resources and opportunities, there's no better time than spring to dive into the world of community gardening in Denver, Broomfield, Arvada, Westminster, Thornton, Northglenn, Wheat Ridge, Lafayette, Aurora, and Commerce City.
If you or a loved one in the Denver North area needs assistance with daily activities, including gardening or transportation to a community garden, reach out to Senior Helpers Denver North for compassionate, personalized care.