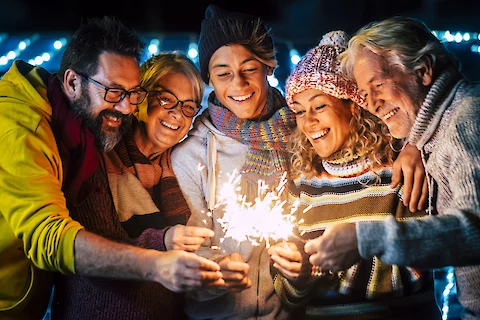 Many caregivers of senior parents are ready to make resolutions for the New Year. Those caregiving responsibilities can quickly take over, making it very difficult for many caregivers to think about anything else. For those caregivers, however, New Year's resolutions can be a great way to look toward a fresh start in the New Year: one that can help them embrace the moments with their senior parents and even make more time for themselves.
Resolution #1: "I Will Take Care of Myself"
Often, caregivers of senior parents—especially caregivers who may have considered other responsibilities, including caring for a home and children—may struggle to make time to take care of themselves. Healthy eating and exercise may fall by the wayside. Taking care of a senior loved one, however, often requires strong physical and mental health, and allowing those needs to fall by the wayside can cause caregivers to experience higher levels of burnout or struggle more to deal with their caregiving responsibilities. Healthy eating and exercise can make a huge difference in overall caregiver health, setting them up for success.
Resolution #2: "I Will Learn More About Available Community Resources"
Taking advantage of available resources can make life much easier for many caregivers, particularly as a senior's health starts to decline. In many communities, there are plenty of resources available that can provide considerable assistance for seniors and their caregivers and loved ones. For example, caregivers might want to take advantage of:
Taking advantage of those resources can free caregivers up to take care of the other tasks on their list—and allow them to spend more time enjoying the time they do have with senior loved ones.
Resolution #3: "I Will Schedule Time for Myself"
Many caregivers find that if they do not schedule time for themselves, they will not take it. Scheduling time out for themselves, from vacations to nights out with friends, can make a big difference in their overall self-care and ability to engage with their senior loved one.
Resolution #4: "I Will Focus on Mindfulness"
Often, in the daily grind, senior caregivers struggle to appreciate the moments they have. Unfortunately, that can mean a lot of missed opportunities to genuinely appreciate spending time with a senior parent. Most often, caregivers take on that caregiving responsibility because of love, but it can prove all too easy to forget about those reasons as responsibilities pile up. Focusing on mindfulness can make it easier to get through the hard times and appreciate the good ones.
Do you have a loved one in the Westchester area, including Torrance, Palos Verdes, Manhattan Beach, or Redondo Beach, that would benefit from additional care and support? Senior Helpers Torrance can help. Contact Senior Helpers Torrance today to learn more about our home care options for seniors and how they can benefit your family.