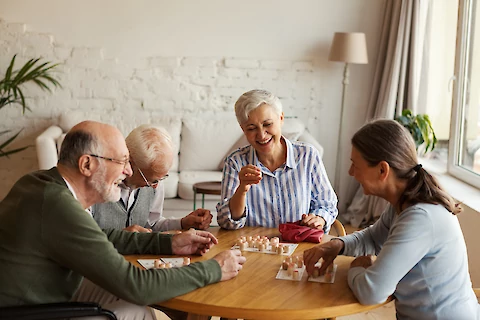 Valentine's Day is the perfect time to express your love and appreciate those close to you. This is especially true for friends who may not always receive a special Valentine's Day surprise from their partner or family. For seniors in Torrance, Palos Verdes, Manhattan Beach, Redondo Beach, and Westchester, here are a few ways to make this special day extra memorable with your friends.
1. Plan a Movie Night 
Create an old-fashioned movie night with friends! Start by choosing a theme such as romance, murder mystery, or comedy. Once the subject of your movie night is decided, you can begin picking out some snacks for everyone to enjoy. Popcorn, candy, and other treats are always a hit during evening viewing sessions with friends. Finally, pick a great movie that fits your theme. 
2. Host a Game Night 
Game nights are always popular with seniors. Decide on a type of game, like card or board games, and gather the supplies you'll need. There is sure to be plenty of fun competition no matter which game you decide to go with!
3. Create a Memory Book 
Create a memory book for friends to take home as a token of your appreciation. This is an excellent craft activity if you're looking for something to occupy you and your friends throughout the day! Start by choosing a theme, like "friendship" or "vacations." Then, get together and share photos of each other and start assembling these scrapbooks together—it won't just be fun, but it will also create beautiful memories between all involved.
4. Cook Together
Preparing meals is always more enjoyable when done in good company, especially on Valentine's Day! Put your cooking skills to the test by making a delicious dinner or dessert together. If one person loves baking while the other enjoys cooking meals—even better! It's bound to be an evening of tasty food and plenty of laughter. 
5. Plan a Trip
Gather friends and take a road trip somewhere special. Whether you're up for an afternoon drive or want to plan a multi-day excursion, travelers of all abilities will enjoy the fun that accompanies planning a day out together.
Tips for Celebrating Valentine's Day with Friends
Make sure whatever activity you choose will be comfortable and accessible for all involved. Recreate traditions by doing things that remind everyone of past Valentine's Day celebrations. Celebrate with someone who needs extra love and support on this day! And, of course, show appreciation in ways such as surprising friends with goodies or writing heartfelt cards.  
Senior Helpers Offers Personalized In-home Care
Valentine's Day is all about showing someone you care, so take the time to celebrate with friends. Senior Helpers Torrance provides personalized in-home care for seniors throughout Torrance, Palos Verdes, Manhattan Beach, Redondo Beach, and Westchester. We are here to support seniors as they continue to live independently while also getting the extra help they need. Our compassionate caregivers will help your loved ones with any daily tasks, from meal preparation and light housekeeping to medication reminders or running errands, giving you peace of mind that your senior loved one is receiving the best quality personal home care possible.