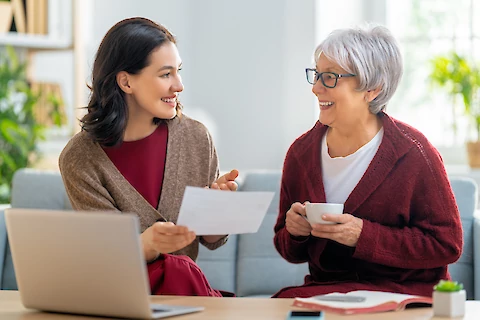 Elderly relatives can be reluctant to talk about finances, and some may feel embarrassed or even ashamed of their financial worries. For those caring for elderly relatives who are dealing with messy paperwork or unorganized accounts, it can be difficult to get the conversation started—let alone to know where to start. It is important that when discussing this sensitive topic with an elder relative, you convey empathy and support. Here are four tips for talking about organizing finances with your elderly loved one in Fountain Valley, Huntington Beach, Newport Beach, Laguna Beach, Mission Viejo Costa Mesa, and Laguna Nigel, courtesy of Senior Helpers South Coast.
Tips for Talking to Elderly Relatives About Organizing Finances
When talking about organizing finances with your senior, it is important to approach the discussion with empathy and understanding. Make sure your loved one knows you are there to help them get organized, not take away their autonomy or dictate how they should organize their accounts. Here are four tips for doing just that:
Start the Conversation Early
Starting the conversation early can help avoid increased difficulties down the line. Make sure your elderly relative knows they can come to you with any questions or concerns they have about their finances. Even if they don't feel comfortable talking to you right away, be available for future conversations and check in often. 
Show Respect for Their Autonomy
Rather than telling your elderly relative what to do with their finances, work with them on organizing it themselves. Offer gentle guidance and support in getting a system in place that works for them, so they can keep track of their accounts and make important financial decisions confidently. 
Also, be sure to ask permission before accessing any confidential information or documents—respect the autonomy of your senior loved one at all times. 
Acknowledge Their Feelings
When talking about finances, it's important to be aware of your elderly relative's emotional response. Let them know that it is normal to feel overwhelmed or stressed when dealing with money matters and reassure them that you are there for support. Acknowledge their worries but remind them that organizing finances should not be a source of shame or embarrassment. 
Offer Resources and Solutions
Provide your elderly relative with resources that can help get their finances in order. Offer to organize paperwork, research options for financial products or accounts, review bills and statements together, or even accompany them on a visit to the bank.  Understand that it may take time for them to feel comfortable making changes. Be patient and keep offering assistance until they are ready.
Reach Out to Senior Helpers for Compassionate Senior Care
Talking about finances with your elderly relatives can be a difficult and sensitive subject, especially if they are not open to getting organized. It is important to approach the conversation with understanding and respect while providing resources that could help make it easier. With patience, empathy, and support from Senior Helpers South Coast, you can ensure your elderly relative gets the care they need to get financially organized. Contact us today to learn more about the senior care services that we offer!