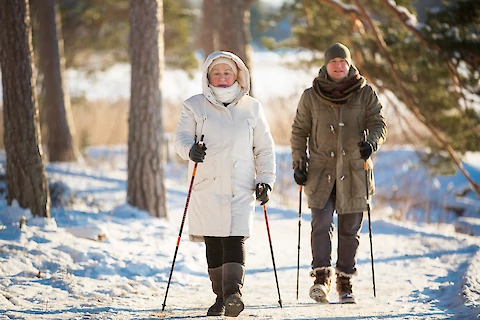 Tips On Choosing The Right Low-Impact Exercise Routines To Keep Senior Adults Fit This Winter
Staying fit, especially during the winter, can be challenging, especially for seniors looking for low-impact exercises that allow them to maintain an enjoyable routine while still getting the health benefits they both want and need. Fortunately, when it comes to low-impact exercises, there are plenty of options for seniors to choose from. And in the post below, we will not only go over some of these options but discuss which routines can easily be done at home with minimal resources. 
Choose the Right Low-Impact Exercise
Low-impact exercises can not only keep your elderly loved one in shape, but they are also known to be easy on the joints, fun and enjoyable, and can be done at home with minimal equipment. However, seniors should discuss any new exercise routine or activity with their physician prior to beginning. To get started on this fitness journey, consider the following exercises. 
Yoga
Yoga is a great exercise that is not only low-impact but is also known to help individuals improve their balance and strength. This can ultimately help seniors reduce the likelihood of suffering serious injuries from falls or other stumbles. In addition, yoga can also ease arthritis symptoms. 
Furthermore, because there are so many different types of yoga, it is easy to find a version best suited for your senior loved one. There are even yoga classes that can be done in a chair. More importantly, there is no need to go to an expensive studio to take these classes, as many of them are offered online for free. 
Walking
Walking is a fantastic exercise that provides enough impact to ensure bones remain strong without them getting hurt or worn out in the process. Plus, it's one of the few activities that can be done daily and with others. 
Walking can be done on a treadmill, around a neighborhood, at a mall, or even on a track. However, even walking around the living room for five minutes can be enough to start getting stronger and build up endurance. Yet, if you take walks outside during the winter months, make sure to watch out for ice and slick roads. Consider wearing shoes with more traction, or if needed, add ice cleats to the bottom of them.
Dancing
Turning on the music and just dancing in the living room can be a great way to improve flexibility, build strength, and burn calories in the process. However, if your elderly loved one does not know how to dance or wants further instruction, there are plenty of online resources, including beginning dance classes, that can help them find the right moves for their body. 
Get Moving This Winter Season with Senior Helpers of San Gabriel Valley
While seniors should try to get around two and a half hours of moderate-intensity exercise per week, getting this exercise can be difficult, especially during the winter months. That is why, if your senior loved one needs assistance achieving their fitness goals, look no further than Senior Helpers of San Gabriel Valley. Our knowledgeable team of home care professionals provides a variety of programs and resources to make sure your loved one's needs are met. We can also be found in numerous locations, including Arcadia, Pasadena, La Cañada Flintridge, and Covina, making it easy to get the help you require. Contact us today for further information regarding our services and how we can help you and your family.