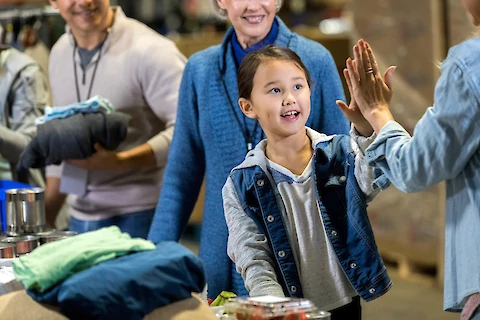 In the hustle and bustle of the holiday season, it can be easy to forget about one of the most important aspects of this time of year: giving back. Luckily, December is National Giving Month, which provides the perfect opportunity for families to come together and volunteer or give back in fun and meaningful ways. Here are 10 fun ways that multiple generations can celebrate National Giving Month together!
1. Donate to a Local Charity
Many charities in the San Gabriel Valley are always looking for donations. Families can pick a charity that works towards an issue or cause you all care about. One example is The San Gabriel Pomona Valley Chapter of the American Red Cross which is committed to supplying the community with resources and aid through its five service lines, which include blood drives, health and safety education, disaster preparedness, response, and recovery, as well as assistance to active-duty military personnel and veterans.
2. Put Together Hygiene Kits for Those in Need
The whole family can be involved by having each person contribute one item to make up a full hygiene kit. Make sure to include basics such as shampoo, soap, toothpaste, and other items that people without access to these supplies may need. You can donate these to various donation centres around San Gabriel.
3. Participate in a Drive-By Food Collection for Those in Need
Families can partner with a local organization or church like The San Gabriel Mission that runs food pantries and find out what kind of items they require. The whole family can put together bags of the needed items and then do a drive-by drop-off at the pantry. Food waste and leftover holiday food are serious problems. According to the Ecology Center, between Thanksgiving and New Year's Eve, waste in the United States increases by 25%. That is an additional 1 million tons of garbage, and 21% of that is food waste. Instead of participating in this cycle, families can collect non-perishable food items and donate them to a local food pantry.
4. Create Holiday Cards to Brighten the Holidays for Seniors Living in Senior Care Facilities
Many seniors may not be able to physically spend the holidays with their families. Families can share some love by creating handmade cards and bringing them over to a nearby senior care facility like Senior Helpers or a nursing home so that they can still feel the Christmas spirit. You can also encourage the kids in the family to draw or paint and attach these to your Christmas cards. This will make the giving extra special and meaningful.
5. Help Clean Up and Beautify Public Parks
The San Gabriel Valley offers an abundance of outdoor spaces for families to explore, but those spaces need upkeep! Families can gather together and head out to a nearby park to help pick up trash, plant flowers, or do some light landscaping.
When it comes to helping clean up and beautify public parks in the San Gabriel Valley during the winter months, there are a few things that families should keep in mind. One of the most important is to take advantage of mild days when possible. Even if it's cold outside, it can be a great opportunity to get outside and help improve local parks
6. Donate Clothes, or Books to a Local Organization That Helps Kids in Need
There are many organizations in the San Gabriel Valley, for example, Friends of Foster Children, that help provide essential items to children who may not otherwise have access to them. Families can clean out their closets and donate lightly used items for kids in need.
7. Help Out at a Local Animal Shelter
For families that include animal lovers, consider volunteering at a local animal shelter. The work can range from taking care of animals to administrative tasks or even cleaning and maintaining the property.
8. Participate in a Toy Drive
As the holidays approach, many organizations run toy drives to make sure that every kid in the San Gabriel Valley has a present on Christmas morning. Families can put together new or lightly used toys and drop them off at a designated location.
9. Help Out at a Local Soup Kitchen
Soup kitchens like the 'Hippie Kitchen' are always looking for extra help during the holidays. Families can join in and see what it takes to make sure everyone has access to a hot meal during this time of year.
Conclusion
These are just a few of the many ways that multiple generations can celebrate National Giving Month together. By coming together and giving back to their community, families can create meaningful moments and make a lasting impact on their local area. Senior Helpers San Gabriel Valley is dedicated to helping seniors in their community, and we encourage local families to come together and give back this December! Our area of focus is senior care and we are proud to offer a variety of services, including respite care, 24-hour home care, Alzheimer's & dementia care, companion care, and more. We serve in the San Gabriel Valley, Arcadia, Pasadena, La Cañada Flintridge, Covina, and the surrounding areas. Contact us today to learn more about how you can get involved in giving back this December!
Happy Giving Month!