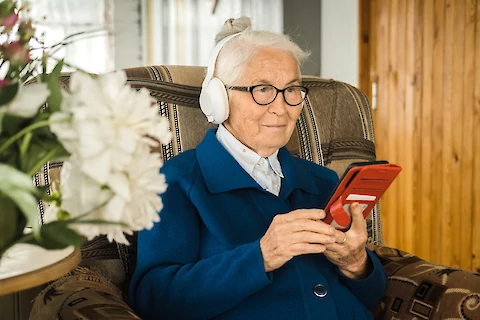 Reading has always been a cherished pastime, a window to different worlds, and a pathway to continuous learning. However, as we age, factors such as visual impairments or physical limitations may pose challenges to enjoying this timeless activity. Thanks to advancements in technology, there's a solution that ensures the love for storytelling remains unimpeded in our senior years: audiobooks. They offer an alternative, accessible means of experiencing a good book.
Understanding Audiobooks
Audiobooks, simply put, are recorded versions of written material. They have been around since the 1930s, originally designed for the visually impaired. Today, they're popular among all age groups, across the globe, as a convenient alternative to traditional reading.
The Advantages of Audiobooks for Seniors
Perhaps the greatest advantage of audiobooks is their convenience. As one age, tasks such as holding a book or turning a page might become challenging due to arthritis or other physical limitations. Audiobooks eliminate this hurdle, allowing seniors to enjoy a good story or learn something new without the physical strain. 
Accessibility is another key benefit. Visual impairments commonly occur in senior years, which can make traditional reading difficult. With audiobooks, seniors can enjoy their favorite novels, biographies, or non-fiction pieces without straining their eyes. 
Equally important is the aspect of continued learning and entertainment. With a wide array of genres and topics available, audiobooks keep the mind active, stimulate imagination, and provide entertainment, which is crucial for the cognitive health in seniors. 
Finally, audiobooks can go anywhere. Many seniors choose to listen to audiobooks while engaging in other tasks, from going for a walk to taking care of chores around the house. 
Platforms for Audiobooks
Several platforms cater to the growing demand for audiobooks. Services like Audible offer a vast library of audiobooks ranging from bestsellers to classics. Google Play Books is another excellent resource that provides a variety of audiobooks that can be accessed on multiple devices. Then there's LibriVox, a unique platform that offers free public-domain audiobooks read by volunteers from around the world. The public domain books on LibriVox are free to listen to, so there's always something new for seniors to enjoy. Each platform is user-friendly, and seniors can easily navigate them to find their preferred titles.
In addition to using common platforms for audiobooks, seniors who prefer physical media can find audiobooks in CD or cassette tape format. Many libraries still have audiobooks available to borrow in person. You may also choose to useLibby to access audiobooks online through your local library. 
The Role of Senior Helpers San Gabriel Valley
If you're located in San Gabriel Valley, Arcadia, Pasadena, La Cañada Flintridge, or Covina, and you or a loved one need more help at home, contact us at Senior Helpers San Gabriel Valley. Our team is here to help you dive into your next great listen, take care of important home care tasks so you have more time on your hands or aid in basic self-care tasks.