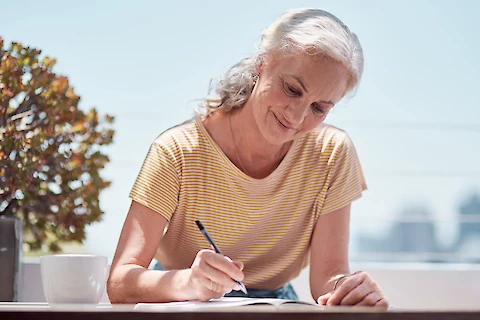 Not that long ago, smartphones and social networks didn't exist. Today's senior citizens remember when they nurtured friendships through handwritten letters. While our world is more digital than ever, many seniors yearn for and appreciate the personal touch of a handmade note. This post explores how seniors may reconnect with old friends by picking up a pen and paper. Letter writing revives a beautifully nostalgic tradition and significantly benefits a senior's mental health.
The Benefits of Letter Writing for Seniors
Letter writing offers a unique and personal connection that is often lost in today's fast-paced digital world. Each penned word carries a slice of personality and emotion, making the recipient feel truly special. For seniors, the act of writing letters invokes a sense of purpose and stimulates cognitive function, which is vitally essential for mental health. The anticipation of receiving a reply brings excitement and joy, reducing feelings of loneliness and isolation. Plus, there's the simple nostalgia of it that brings back warm memories of the past.
How to Begin the Process of Reconnecting
Reconnecting with old friends might seem like a daunting task, but consider starting by creating a list of friends who would like to hear from you. Dig out old address books, reach out to mutual acquaintances, or use online platforms to track down addresses. Simple, genuine messages work best when you're ready to write your letters. Share updates and fond memories of your life, or inquire about their lives. Don't worry about creating perfectly penned masterpieces; instead, focus on heartfelt messages that reflect your personality. Let your sense of humor shine through as you compose your letters. Nothing brightens someone's day more than the opportunity to smile or laugh. 
The Impact of Rekindling Old Connections
Establishing or rekindling connections may breathe new life into a senior's world. Letter writing provides opportunities for shared memories, laughter, and even some level of companionship. And it's not just about reliving the past; it's about building new memories and experiences, even from afar. We've witnessed beautiful stories of seniors whose life took a brighter turn upon reconnecting with old friends. One resident began exchanging recipes with her childhood friend, while another started a book club with his old college buddies. These stories show us that age is no barrier to maintaining and fostering fulfilling friendships.
We Can Help
While we've embraced the convenience of emails and text messages, there's something undeniably charming about receiving a handwritten letter in the mail. It's a simple act, but one that holds a profound impact on a senior's mental health and overall well-being. 
If you're in the San Gabriel Valley, Arcadia, Pasadena, or Covina regions and seeking support for your aging loved ones, Senior Helpers San Gabriel Valley is here to help. We not only provide professional home care, but we also strive to enrich seniors' lives through our various programs and activities. We encourage you to contact us. We would love to discuss our in-home care services with you, including Wellness Watch and Companion Care.