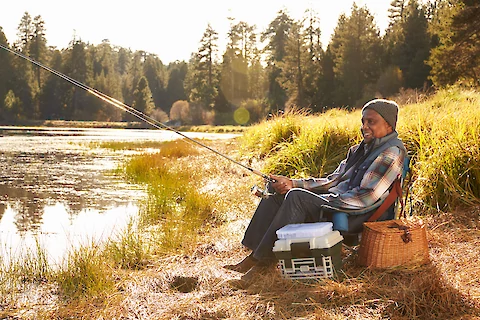 It's understandable why many people love fishing. The numerous health benefits and low-impact nature make fishing a perfect activity for seniors looking to stay active, healthy, and engaged. This article explores the various advantages of fishing, such as improving mental well-being, promoting relaxation, fostering social connections, enhancing physical dexterity, and providing opportunities to connect with nature. Whether you're an experienced angler or new to the hobby, you'll find fishing an enjoyable and accessible activity for seniors of all fitness levels. 
Improving Mental Well-being
One of the primary benefits of fishing is its positive impact on mental health. Fishing requires focus and patience, which helps reduce stress and anxiety as you become immersed in the activity. Concentrating on a single task, such as casting a line or reeling in a catch, promotes mindfulness and mental clarity, ultimately contributing to a calmer and more balanced state of mind.
Promoting Relaxation
Spending time near water provides calming effects on our minds and bodies. The gentle sounds of water lapping against the shore and the serene surroundings create a peaceful atmosphere perfect for escaping daily stressors. Fishing allows seniors to enjoy this relaxing environment while engaging in a leisurely and enjoyable pastime.
Fostering Social Connections
Fishing allows seniors to bond with friends and family members. It creates a space for conversation, shared experiences, and making lasting memories. Furthermore, many local fishing clubs and groups cater specifically to seniors, offering a chance to meet new people and form meaningful connections with fellow fishing enthusiasts.
Enhancing Physical Dexterity
While fishing may appear relatively simple, it involves a variety of motions that exercise fine motor skills. Actions such as casting, reeling, and handling equipment help maintain and improve agility. Additionally, the low-impact nature of fishing makes it accessible to seniors with various fitness levels, allowing them to stay active without putting excessive strain on their bodies.
Connecting with Nature
Spending time outdoors and in natural environments has numerous health benefits for seniors. Fresh air, sunlight, and the soothing sights and sounds of nature all contribute to improved mood and overall well-being. Fishing provides an opportunity for seniors to not only enjoy the great outdoors but also develop a deeper appreciation for nature and its resources.
Tips for beginners and local resources
If you're new to fishing or looking to return to the hobby, start by familiarizing yourself with basic fishing techniques and equipment. Local fishing stores and online resources will help with the basics.
You'll find plenty of great fishing spots to explore in the San Gabriel Valley, Arcadia, Pasadena, La Cañada Flintridge, and Covina areas. Popular locations include the Santa Fe Dam Recreation Area in Irwindale and the Peck Road Water Conservation Park in Arcadia. Additionally, many local parks offer equipment rentals or fishing workshops, making it even easier for seniors to try fishing.
We Can Help
If you or your loved one needs assistance with senior care and activities in the San Gabriel Valley, Arcadia, Pasadena, La Cañada Flintridge, and Covina areas, don't hesitate tocontact us at Senior Helpers San Gabriel Valley. Our dedicated team wants to provide the support and resources you need to live your best life.