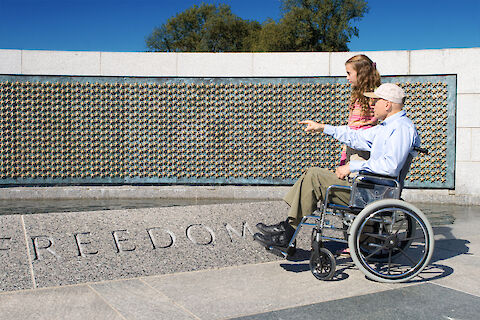 Memorial Day holds a special place in our hearts as we remember and honor those who have bravely served in the military. This day of remembrance is not only important for the veterans and their families but for everyone in the community. Seniors, in particular, have a unique role to play in these commemorations, whether they have served in the military themselves or not. This Senior Helpers post explores a few fantastic ways seniors can get involved and make this Memorial Day truly memorable.
1. Volunteer at Local Memorial Day Parades
Memorial Day parades are a popular way to show support for veterans and honor those who have served. Seniors can get involved by offering their help in organizing and setting up the parade. This could involve tasks such as decorating floats, coordinating participants, or helping to direct traffic during the event. Volunteers could lend a hand in cleaning up the area after the parade is over.
2. Coordinate a Memorial Day Flag Planting at Local Cemeteries
One thoughtful way to pay tribute to fallen soldiers is by organizing the placing of American flags on the graves of veterans at local cemeteries. Seniors can take the initiative by putting together a group of volunteers and reaching out to local veterans' organizations to provide assistance and resources. This effort not only honors those who have served but also brings the community together in a meaningful way.
3. Support a Memorial Day Concert or Performance
Many communities hold concerts and performances to commemorate Memorial Day. Seniors can offer their support by helping with ticket sales, promoting the event, or volunteering as ushers during the performance. Assisting with seating arrangements or pitching in with post-event cleanup can make a big difference in the success of the event and show appreciation for the performers.
4. Organize a Memorial Day Food Drive
Partnering with local food banks or veterans' organizations allows seniors to make a tangible difference in the lives of those who have served.  Coordinating a food drive to collect non-perishable items for those in need assists veterans and their families. It also promotes the spirit of giving within the local community. Gathering volunteers to collect and distribute donations can amplify this impact even further.
5. Assist with a Memorial Day Wreath-Laying Ceremony
Wreath-laying ceremonies are solemn and respectful events. Seniors can play a significant role in organizing and executing them. They can offer to help with the setup and make sure proper protocol is followed. It creates a meaningful experience for all involved. Inviting local community members to attend and participate in the ceremony can further strengthen community bonds.
6. Organize a Memorial Day-themed Senior Social Event
Seniors can plan a gathering in the community to share stories and memories of their military service or that of loved ones. It is a powerful way to foster connection and camaraderie. Coordinating refreshments and entertainment for the event can make it even more special. Extending invitations to local veterans' organizations provides an opportunity for seniors to learn about the resources and services available to them.
7. Volunteer at a Local Veterans' Hospital or Care Facility
Memorial Day is an impactful time for seniors to volunteer at local veterans hospitals or care facilities. They can assist with Memorial Day-themed activities or simply spend the day visiting and listening to veterans' stories. It is a rewarding way for seniors to help brighten the day for those who have served their country.
Senior Helpers Helps Seniors Give Back
Senior Helpers is your premier provider of in-home senior care in San Gabriel Valley and surrounding communities. If you or a loved one are in need of assistance with daily activities or companionship in the San Gabriel Valley, Arcadia, Pasadena, La Cañada Flintridge, or Covina areas, contact Senior Helpers today to learn more about our personalized in-home care services.