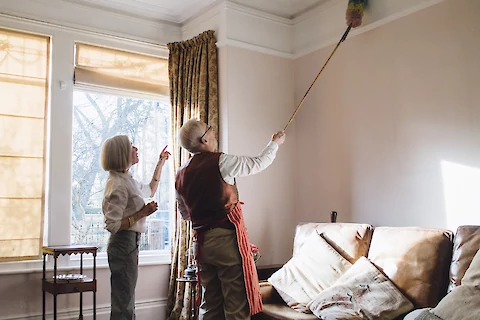 As the spring season approaches and the days get longer and warmer, it's time to get out of the house and tackle some essential spring cleaning projects. While we're all excited to get out and enjoy the spring season, for many seniors, the physical tasks that come with a spring cleaning project may be too overwhelming.
If you're wondering if it's time to hire help for your elderly parents' spring cleaning projects in the San Diego, Chula Vista, Hillcrest, and Point Loma areas, Senior Helpers San Diego can offer compassionate in-home care and guidance for the springtime. Read on to learn about the reasons why you should consider hiring help for your senior's spring cleaning projects.
Reasons to Hire Help for Seniors' Spring Cleaning
There are a lot of reasons to hire help for your senior relative's spring cleaning projects. Here are a few of the most significant!
Time Saving
Spring cleaning can be a time-consuming task. By hiring help, you can save yourself and your senior relative a great deal of time. Many professional cleaning companies work on a tight schedule. They tend to get in, clean thoroughly, and then get out, making the process easier for everyone involved.
Physical Limitations
Many seniors may have physical limitations that make spring cleaning tasks difficult or impossible to complete. Hiring help can alleviate some of the stress of the spring cleaning project and ensure that the task runs smoothly. 
Expertise
With years of training and experience, cleaning companies, caregivers, and in-home service providers all have the expertise necessary to complete any spring cleaning project, no matter how big or small. 
Safety Concerns
Spring cleaning can present safety concerns for seniors. Many tasks around the home aren't safe for seniors to complete, including gutter cleaning, furniture moving, and window washing. 
Still, these things need to be done on a regular basis in order to keep your senior's home clean and functioning well. To keep your elderly parents safe, it's best to hire an in-home senior care specialist or cleaning company that can monitor and address any potential safety issues. 
How to Talk to Your Senior About Hiring Help
If you're concerned about how to bring up the topic of hiring help for your elderly parents' spring cleaning projects, be sure to explain the benefits of hiring help. Let them know that you're looking out for their health, safety, and comfort when it comes to spring cleaning tasks. 
Also, be sure to explain the convenience of having specialists work on cleaning tasks and how they can make the spring cleaning process go smoothly.
Senior Helpers Offers Assistance for Spring Cleaning
Spring cleaning is an essential part of the season, but it can be a daunting task for seniors. When it comes to spring cleaning projects, consider hiring help from Senior Helpers San Diego. 
With years of experience, expertise, and compassion, Senior Helpers can ensure that your elderly parents' spring cleaning projects are completed quickly and safely. Contact us today to learn about compassionate in-home senior care for the spring season.