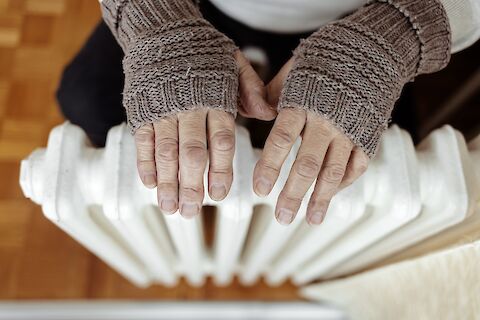 Aging and cold sensitivity are two experiences that go mitten in mitten, but that doesn't mean you should go sock-in-sock. When you start to get chilly, it's important to know the right way for seniors to stay warm in the San Diego winter climate. From Hillcrest to Chula Vista, San Diego seniors often start to feel a chill as soon as the temperature dips below 70 degrees.
Senior Helpers San Diego can keep you feeling warm and cozy with these practical winterwear tips.
One Pair of Wooly Socks
If your feet are cold, the best solution is a pair of wooly socks. As most Californians don't own woolen socks (yet), don't be afraid to order yourself a few dozen festive wooly socks on the internet. 
But why not just wear two pairs of your normal socks? First, it's because typical synthetic socks just aren't very warm. The second reason is that the outer socks can cut off your circulation and make your feet feel colder than before. 
Keep a Collection of Beanie Hats and Shawls
Humans lose a lot of heat out of the tops of our heads, and this is especially true for seniors. Covering your head can make a big difference, especially if you choose a warm beanie hat. You can also use a nice wrap-around shawl in a more traditional style to keep your head, neck, and shoulders warm. 
Add a Long-sleeved T-shirt or Sweater
Because your skin is more susceptible to cold and drafts, a simple long-sleeved t-shirt can really help seniors stay warm in San Diego. On very chilly nights, add a soft extra layer of sweater to help keep your body well-insulated. 
Wear Knitted Fingerless Gloves
If your hands are cold but you want to stay active, wear fingerless gloves or fingerless mittens (individual or combined fingers) as they can still help to keep your hands from aching in the cold. This is also a useful trick you can share with any naturally cold-handed friends or family.
Heavy Pants and Sweatpants
To keep your legs warm, choose pants with a heavier, warmer fabric. When you're at home, you can also simply relax in a pair of wooly winter sweatpants, which are typically designed to keep you warm from cold drafts. 
Upgrade Your Winter Housecoat
If you wear a housecoat or a jacket, consider getting one designed for winter. A long hoodie or housecoat can keep your entire upper body and much of your lower body warm when you are holding still, and it is easy to shed when you're ready to socialize or get physically active. 
Bonus: Get a Lap Warmer
You can also help keep yourself warm when holding still with the help of a lap warmer. A miniature electric blanket, a lap warmer simply adds to the passive heat your body needs to remain comfortable. 
Cozy Winter Care with Senior Helpers San Diego
If you are a senior or caregiver in need of knowledgeable senior care in the San Diego areas of Point Loma, Hillcrest, and Chula Vista, Senior Helpers San Diego is here to make this chilly spring into something cozy and fun. We also know how to help keep California seniors warm without overheating or making silly sock-based gaffs. Contact us today to learn more.