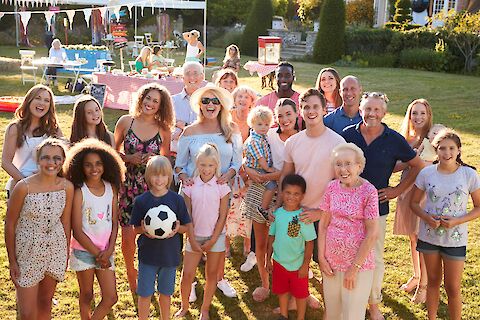 7 Fun Ways for Families with Children to Give Back to the Community During the Holidays
December is regarded as National Giving Month. This period provides an ideal opportunity for families to volunteer to support causes close to their hearts. In addition, children of all ages understand how fulfilling it is to assist other people, and volunteering instills a charitable outlook and an understanding of the outside world.
In this article, we've compiled a list of fun and easy ways your family may give back to the local San Diego community during this holiday season. Continue reading to find out more.
Volunteer at the San Diego Farm Animal Rescue
This remarkable rescue farm provides weekly volunteer activities for children, teenagers, and adults, including tending to their farm animals, caring for the pigs, gardening, doing farm cleanups, and much more. You can take a free farm tour to educate yourself and the kids about animal compassion and meet the farm's pigs, horses, and chickens.
Helen Woodward Animal Shelter
Children can organize their own fundraiser to help the animals at the Helen Woodward Animal Shelter (right at home!). They can use their creativity to set up a bake sale, lemonade stand, or dog wash. It's a win-win for everyone. Little fundraisers get the experience while animals also benefit.
Rady Children's Hospital Program
The holiday season is the perfect time to bring joy to sick children in hospitals. Donate books, videos, or toys to children who cannot play outside due to medical constraints. Popular options include new movie releases and new toys. Having your child decide on the donation gives them a sense of ownership over the initiative and makes them feel fulfilled for contributing.
Feeding San Diego
Helping out at Feeding San Diego is a great way to leave a lasting impression and express your care. Every week on Saturday, volunteers aged six and above help pack food boxes for families in need around the county. Combined efforts from families create an engaging conversation about appreciating the little things in life and keeping in mind the plight of those in need around us.
Meals on Wheels San Diego County
Families can benefit significantly from participating in this volunteer project. The organization Meals on Wheels delivers meals to scores of senior citizens who cannot leave their homes. Creating care packages for your senior neighbors is a great way to show young people the value of respecting their elders.  
Father Joe's Villages
San Diego has the fourth-highest percentage of homeless people in the country. Father Joe's Villages is the largest homeless rehabilitation program in our area. Volunteers under the age of 10 can help with event support and lunch serving.
San Diego Food Bank
In San Diego, children as young as 11 can volunteer for three hours at the food bank, where they can help with various tasks such as packaging and cleaning produce, boxing, labeling and sorting food donations, and arranging food packages for various programs. Each month, the San Diego Food Bank provides meals to an astounding 370,000 residents of San Diego County.
Senior Helpers Provides Care for Your Loved One
Senior Helpers San Diego County understands how hectic the holidays can be for most families. With our assistance, you can provide your loved ones with the care and companionship they need. Our caregivers are available in San Diego, Chula Vista, Hillcrest, and Point Loma. Contact us today to learn more about our in-home senior care services.