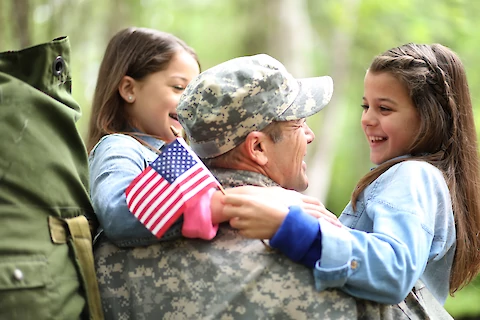 Memorial Day is a time to remember and honor the brave men and women who have served our country. This day holds special significance for families with a rich military history or a veteran family member. Intergenerational celebrations teach younger generations the importance of honoring our heroes. This Senior Helpers post explores some fun and meaningful ways to celebrate Memorial Day with everyone in the family. 
Local Celebration Ideas
USS Midway Museum's Memorial Day Celebration
One highly recommended event is the USS Midway Museum Memorial Day celebration. Located in San Diego, the museum hosts a special wreath-laying ceremony, live music, and guest speakers to commemorate the day. This event is perfect for families to learn about history while honoring those who have served.
Veterans Museum and Memorial Center
The Veterans Museum and Memorial Center in Balboa Park offers families the opportunity to explore exhibits dedicated to military history and participate in commemorative events. The museum presents a unique opportunity to teach younger generations about the sacrifices made by veterans and the importance of Memorial Day.
Annual Memorial Day Ceremony at Miramar National Cemetery
For a more solemn experience, consider attending the Annual Memorial Day Ceremony at Miramar National Cemetery. This event honors fallen service members and features various guest speakers. Families can also spend some quiet time at the Veterans Park in Chula Vista to reflect on the sacrifices made by veterans while enjoying a peaceful family picnic.
General Celebration Ideas
Host a Family Get-together
Consider hosting a family BBQ or a potluck if you prefer to keep celebrations closer to home. This is a great way to bring together family members of all ages and share stories about the veterans in your family. Encourage everyone to contribute a dish to share, and set aside some time to talk about the significance of the day.
Attend a Local Parade
If your town hosts a Memorial Day parade, why not participate as a family? Dress up in patriotic attire and show your support for local veterans and military organizations. Attending a parade together provides an opportunity to connect with your community and teach younger family members about the importance of honoring those who have served.
Pay Respect to Fallen Service Members
Another meaningful way to celebrate Memorial Day with everyone in the family is to visit a local veterans memorial or cemetery. Pay your respects to fallen service members and educate younger generations on the sacrifices made by those who have served. This activity focuses on the true meaning of Memorial Day so it is not lost on future generations.
Create a Memory Keepsake
Collect photos, letters, and memorabilia from your family's military history and work together to compile a lasting tribute. A scrapbook or memory box project preserves memories for future generations and provides an opportunity for storytelling and bonding among family members.
Virtual Celebration Ideas
Have a Virtual Family Gathering
You can organize a virtual Memorial Day celebration for families who are unable to gather in person. Set up a video call with family members near and far to share stories and memories about your family's veterans. This virtual meeting helps maintain traditions and connections in spite of the distance.
Watch Memorial Day Movies Online
Another virtual option is to watch a Memorial Day-themed movie or documentary together online. Choose a film that highlights the sacrifices of service members and discuss the themes and connections to your own family's military history.
Participate in Virtual Events
Consider participating in a virtual Memorial Day event. A live-streamed ceremony or an online panel discussion hosted by a veterans organization allows all members of the family to be part of this important day.
Senior Helpers Honors Veterans
Senior Helpers provides quality in-home senior care services for veterans and their families. If you're in the San Diego, Chula Vista, Hillcrest, or Point Loma area and need assistance with senior care for your veteran family member, contact Senior Helpers San Diego for compassionate and professional support.