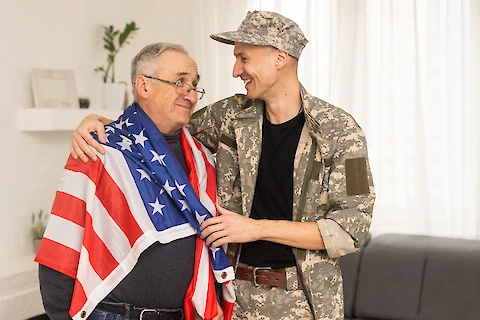 May is Military Appreciation Month. It is a time to honor and celebrate the brave men and women who have served our country. This special month also presents a wonderful opportunity to show gratitude and support for our senior veterans. This Senior Helpers blog post shares a few meaningful ways to celebrate with senior loved ones both in the San Diego area and beyond. We want to make Military Appreciation Month a truly memorable experience for the heroes in our family.
Local Events and Ideas
There are numerous events and locations in the San Diego area perfect for spending quality time with senior veterans. One of them is the San Diego Veterans Museum and Memorial Center. Here, you and your loved one can explore various exhibits and memorials dedicated to the veterans who have served our nation. Keep an eye out for special events taking place during Military Appreciation Month that may be of interest.
The USS Midway Museum is a fantastic destination any time of the year, but it is especially meaningful during Military Appreciation Month. You can go on a guided tour together and learn about this historic aircraft carrier. Many veterans volunteer at the museum, providing an opportunity for seniors to connect with fellow servicemen and servicewomen.
Consider exploring the Veterans Village of San Diego. It offers numerous services and support for our nation's veterans. Look for special events, workshops, or presentations during Military Appreciation Month that you and your loved one can attend. Check local news sources or online event calendars for information on Military Appreciation Month parades or ceremonies happening in your community.
Non-geographic Specific Ideas
For those who prefer to celebrate Military Appreciation Month at home, creating a scrapbook or memory box is a wonderful way to celebrate. Fill it with photos, letters, and memorabilia from your senior loved one's time in service. Seniors and their families can reminisce while they organize a collection of cherished memories sure to be appreciated for generations to come.
Watch military-themed movies or documentaries together. Choose films that are relevant to their branch of service or time period and engage in a thoughtful discussion after viewing.
You can also cook a meal that was popular during their time in the military. Research recipes or dishes from that era, prepare the meal together, and share stories from their service while enjoying the fruits of your labor.
Writing letters to current service members is a meaningful activity for both you and your senior family member. Encourage them to share their experiences and offer words of encouragement to those who are actively serving. There are numerous organizations that facilitate letter-writing to service members, including Operation Gratitude and Soldiers' Angels.
Additional Tips and Considerations
When celebrating Military Appreciation Month with a senior veteran, it is important to be sensitive to their emotions and experiences. Some veterans may have difficult memories associated with their time in service, so be prepared to listen and offer support.
Encourage your senior loved one to share their stories with younger generations. This not only helps preserve their experiences but also provides valuable lessons for younger family members. It allows them to better understand and appreciate the sacrifices made by our veterans.
Senior Helpers Celebrates Our Heroes
Senior Helpers provides high-quality in-home senior care services focused on meeting the specific needs of seniors and their families. If you need assistance with caring for a senior veteran in San Diego, Chula Vista, Hillcrest, or Point Loma, contact Senior Helpers San Diego for compassionate and professional support. We are happy to help make Military Appreciation Month truly memorable for the heroes in your family.