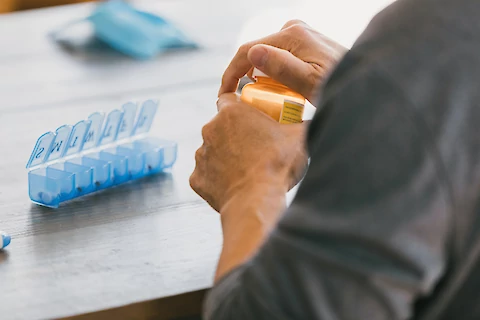 With busy lives, even the most organized seniors can easily forget to renew their prescriptions from time to time. If not done in a timely manner, this can have serious consequences. At Senior Helpers San Bernardino, we understand the importance of keeping up with medication refills for seniors, so we have come up with a few strategies that can help ensure they get their medications on time.
Keep reading to learn how you can ensure that seniors stay on top of their medication refills.
Keeping a List of Medications
Seniors can keep a detailed list of the medications they're taking, including the dosage and the frequency of use. This list should also include any over-the-counter medicines, vitamins, and herbal supplements. Keeping such a list makes it easier to remember which medications need refilling and will make it easier to discuss medication with their doctor.
Setting Up Recurring Refills 
Most pharmacies offer automated refill options. It is important to discuss this with the pharmacist to ensure that the senior's prescriptions are refilled on time each month. This way, they don't have to worry about running out of their medications. If for any reason, a senior needs to switch pharmacies, make sure to coordinate with the old pharmacy. This way, you can guarantee that there's no interruption in the refill schedule.
Setting Up Phone Reminders
Phone reminders are a great way to ensure that seniors stay on top of their medication refills. Smartphones have great applications that will remind seniors when their medications are due for a refill. They can also set up an alert to remind them the day before their refill is due.
Writing Calendar Reminders
Using a wall calendar or a planner, seniors can note the dates when they need their medications refilled. This is also a great way for seniors to stay organized and remember to get their medications refilled in a timely manner.
How Seniors Can Get Assistance With Medication Refill Reminders
At Senior Helpers San Bernardino, we offer medication reminders as part of our services. Our experienced caregivers can remind seniors to have their prescriptions refilled and help them to manage and organize their medications.
For those seniors who can no longer manage medications on their own, our caregivers can also provide assistance with purchasing, organizing, and administering their medications.
Senior Helpers Assists With Seniors' Medication Management
As seniors grow older, it can be difficult for them to keep track of their medications. To ensure that they have their prescriptions refilled on time each month, seniors can keep a medication list, set up recurring refills, set up phone reminders, write calendar reminders, and ask for help from a professional caregiver.
At Senior Helpers San Bernardino, we are here to help seniors in Loma Linda, Redlands, Grand Terrace, San Bernardino, Colton, Yucaipa, and Rialto areas, stay on top of their medications so they can stay safe and healthy. Contact us today to learn more about how we can help.