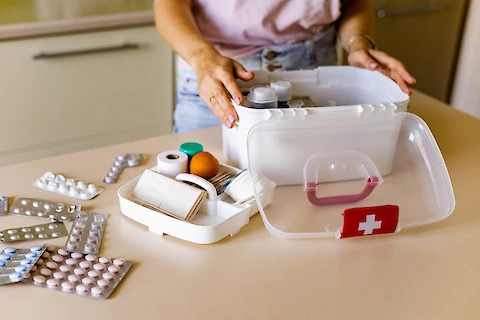 When traveling with senior relatives, it is essential to bring all of the necessary items for their care. Flying or traveling abroad for an extended period of time means having a comprehensive medical kit ready at all times. In this guide, we'll discuss preparing and packing an emergency medical kit suited for international travel, including medications, documents, and other important supplies.
Before You Go
Before traveling abroad with seniors, make an appointment with their primary care physician for an assessment. See that all necessary vaccinations and immunizations are up-to-date, and fill any prescriptions ahead of time. Planning in advance is essential for senior citizens who take prescription medications frequently. It may be wise to also schedule appointments with other specialists if your relative has a preexisting medical condition requiring care while away from home.
Check with the embassy where you'll be traveling for any local restrictions or requirements surrounding prescriptions or other medical supplies.
Emergency Medical Kits
An emergency medical kit should contain prescription medications, over-the-counter medications, first aid supplies, and important medical documents. Be sure to store it carefully in a place where it will stay cool and dry. Keep the kit in an easy-to-carry bag, so it is easily accessible should the need arise. Ziploc bags or other resealable containers are a great way to make sure the emergency supplies stay dry and protected.
Most countries allow a 30-day supply of prescription medications. Pack more than you need for the trip in case of unexpected circumstances, and keep the medicine in the original container. Bring a copy of the prescription for each and, if possible, get a document from your loved one's physician detailing what conditions they are being treated for and which drugs are needed to manage those conditions. Keep each medication separate and well-labeled so that customs officials can easily identify which medication is which if they search your bag.
Pack over-the-counter medications, such as antihistamines, cough drops, antacids, and pain relievers for general discomfort. Add basic preventative options like bug spray, sunscreen, and hand sanitizer. The kit should also have extra supplies for any medical devices like inhalers, spare batteries for hearing aids or a backup pair of prescription glasses or contact lenses, if applicable.
Finally, keep copies of medical insurance information (with policy numbers), contact information for all healthcare providers, and an updated emergency contact list in the kit at all times.
Senior Helpers Provides Premium Care Services
If you're traveling abroad with your loved one, make an emergency kit, so you are prepared for unexpected circumstances. If you or your loved one have questions about building an emergency kit or preparing to travel abroad, get in touch with Senior Helpers San Bernardino. Our professional caregivers can help with doctor visits, running errands to build your emergency kit, or simple housekeeping to get you ready for travel. We help senior adults in and around the Loma Linda, Redlands, Grand Terrace, San Bernardino, Colton, Yucaipa, and Rialto areas. Contact us today to learn more about our services!