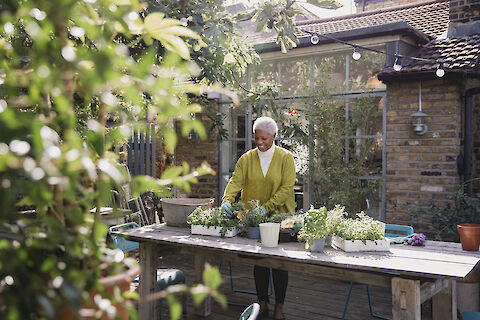 Gardening is a therapeutic and fulfilling pastime that holds benefits for all ages. And for our senior loved ones, a garden tailored to their needs simultaneously becomes an oasis of activity and tranquility. This blog post will guide you on how to create a senior-friendly home garden that is not just accessible and engaging but also a delightful haven for your elderly loved ones.
Understanding the Needs of Senior Gardeners
Crafting a senior-friendly home garden starts with understanding common challenges our loved ones might encounter. Mobility limitations might make navigating traditional gardens difficult. Meanwhile, changes in dexterity make handling tiny seeds or gardening tools a challenge. Some seniors might also face cognitive obstacles that may turn complex gardening tasks into sources of frustration.
By considering these unique needs, you will create a garden that is not just beautiful but also accessible and enjoyable for seniors.
Designing an Accessible Senior-Friendly Home Garden
When designing a senior-friendly home garden, you need to make accessibility a priority.
Consider incorporating gently sloping paths that are easy to navigate with a walking aid or a wheelchair.
Low-maintenance plants, such as succulents or perennial plants that return each year without replanting, offer beauty without the added labor.
Another critical element is lighting. Ensure the garden is well-lit for evening enjoyment and safety, while ample shaded areas offer a retreat from the midday sun.
Choosing Ergonomic Gardening Tools
The right tools greatly enhance the gardening experience for seniors. Ergonomic tools with easy-to-grip handles can make tasks like pruning and digging more manageable. Also, consider lightweight, long-handled tools that can help alleviate the need for bending or kneeling. Keeping these tools organized and within easy reach in a tool caddy or a gardener's stool also improves the gardening experience.
Creating Opportunities for Physical Activity and Social Interaction
With a bit of imagination, your senior-friendly home garden will become a hub for physical activity, from gentle stretching while tending to plants to more active tasks like raking or watering. A garden may also serve as a warm, inviting backdrop for social interaction. Gardening clubs or tea parties provide lovely ways to entertain and invite friends to enjoy the garden while fostering a sense of community.
Imaginative Suggestions for an Enriching Gardening Experience
Personalize the garden to make it even more appealing. Here are some ideas to consider when creating a senior-friendly home garden:
Add a touch of whimsy with fairy lights or a small fountain.
Engage the senses with fragrant flowers such as lilies and roses.
Add some drama with rustling ornamental grasses.
Incorporate plants or flowers that are personally significant to seniors. This can turn the garden into a scrapbook of cherished memories.
We Can Help
In addition to providing a visual delight, gardening offers a comforting space for seniors to remain active, socialize, and connect with nature.
If you live in Loma Linda, Redlands, San Bernardino, Yucaipa, or Rialto and need help creating a senior-friendly space at home, don't hesitate to contact us at Senior Helpers San Bernardino. We'd love to talk to you about our many in-home care services!