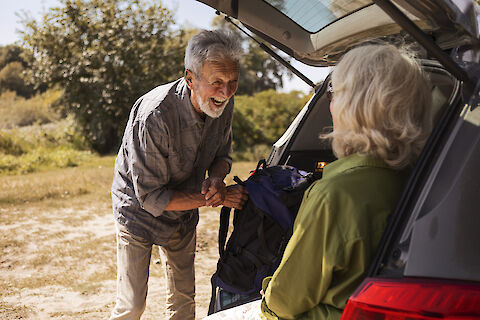 Taking a summer road trip with your senior loved one is the perfect opportunity to create lasting memories while exploring new places at a comfortable pace. This blog post shares practical tips for planning a senior-friendly road trip that considers health concerns and mobility limitations for a fulfilling and enjoyable journey.
Choose Appropriate Destinations
Selecting suitable destinations for your road trip will help guarantee the comfort and enjoyment of your senior family members. Start by considering their interests and preferences. Are they history buffs and nature lovers, or do they enjoy cultural experiences?
Once you know what they'd prefer, research destinations that offer accessible amenities, such as wheelchair ramps, elevators, or seating areas in popular tourist spots. Opt for locations that provide a variety of activities tailored to seniors' physical abilities. This way, everyone can participate and enjoy themselves.
Pack Essentials for a Senior-Friendly Road Trip
A smooth senior-friendly road trip starts with packing the right essentials. Don't forget important items like medications and medical supplies in clearly labeled containers. Also, remember to bring comfortable clothing and footwear suitable for your planned activities. Keep the car stocked with healthy snacks and hydration options, and bring entertainment options like audiobooks or music to make the journey enjoyable for everyone.
If your senior family member requires assistive devices like a walking cane or wheelchair, make sure they're easily accessible during the trip.
Activities Tailored to Seniors' Interests and Physical Abilities
To keep your senior loved ones engaged and entertained, include activities that cater to their interests and abilities. Sightseeing tours with minimal walking, for example, offer an opportunity to experience a new place without exertion. Cultural experiences like museums or historical sites provide entertainment and education, while nature excursions like scenic drives or gentle hikes allow seniors to connect with the great outdoors. Don't forget about opportunities to participate in local events or workshops or to try out new experiences.
Safety Considerations for Senior-Friendly Road Trips
Ensuring the safety of your senior loved ones during the trip is of utmost importance. Here are some safety considerations to keep in mind:
Plan for regular rest stops to avoid fatigue. Stopping every couple of hours will give everyone a chance to stretch and avoid muscle cramps. It's also a good opportunity to stop for a meal and do a medication check.
Keep emergency contact information readily available, and familiarize yourself with the location of nearby hospitals or medical facilities in case of an emergency.
Let someone back home know your route and destination. Make sure to check in with them regularly, so they know the trip is going smoothly.
Additionally, consider investing in travel insurance for added peace of mind. Choose a policy that covers car and medical emergencies.
We Can Help
Planning a senior-friendly road trip may require some extra thought and preparation. Keep in mind the importance of considering your senior family members' interests, abilities, and needs throughout the planning process.
For those living in Loma Linda, Redlands, or San Bernardino, remember that Senior Helpers San Bernardino is here to provide comprehensive and compassionate care for your loved ones. Contact us today to learn more about our services, and let us help make your senior-friendly road trip a success.