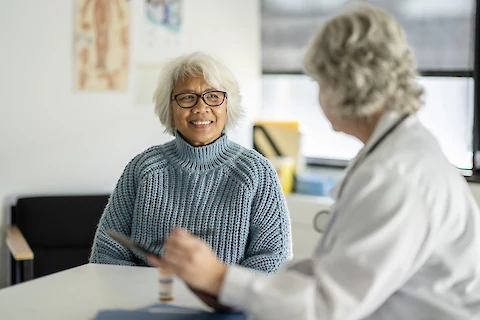 As we age, maintaining our brain health becomes increasingly important to prevent cognitive decline and promote overall well-being. Supplements and vitamins can play a crucial role in supporting senior brain health. However, with so much information available, it can be challenging to know which ones are truly beneficial.
Consult With Healthcare Professionals
One of the best ways to ensure seniors get accurate information about brain health is to consult with healthcare professionals. Regular check-ups with a doctor will not only help seniors monitor their overall health but also provide an opportunity to discuss any specific concerns or conditions they may have. Your doctor can give personalized recommendations for supplements and vitamins based on your medical history and needs.
In addition to seeing a doctor, seniors might consider seeking advice from a registered dietitian or nutritionist. These experts can offer an in-depth analysis of their dietary needs and habits while suggesting tailored dietary plans to support brain health. By working with a healthcare professional, seniors can ensure that they're making informed decisions about how to prioritize vitamins and nutrients in their daily routines.
Researching Medical Information Online
The internet is a treasure trove of information, but not all sources are created equal. When looking for reliable information on senior brain health supplements and vitamins, stick to reputable sources such as government health websites like the National Institutes of Health and non-profit organizations focused on senior health like the AARP and Alzheimer's Association. These organizations often have up-to-date, evidence-based information that can help guide seniors' choices.
As seniors explore online, make sure to evaluate the credibility of the sources they come across. Look for citations and references to scientific research, and be wary of websites with sensational headlines or exaggerated claims. Remember: if something sounds too good to be true, it probably is!
Using Libraries and Other Offline Resources
While the internet can be incredibly helpful, it's also important to utilize offline resources like libraries and local educational events. Libraries, especially university libraries, often have access to medical journals and books on senior health topics that can provide comprehensive information on supplements and vitamins. If seniors can't find a specific resource, consider requesting an interlibrary loan to access materials from other library systems.
Attending educational events and workshops can also be a valuable way to learn about senior brain health. Keep an eye out for local health fairs, seminars, and community center classes that cover senior health topics. These events typically feature experts who can provide in-depth information and answer seniors' questions directly.
Tips for Avoiding Scams and Aggressive Advertising
Unfortunately, seniors are often targeted by scams and aggressive advertising for nutraceutical products. To protect themselves, it's essential for seniors to recognize common red flags like miracle cures or too-good-to-be-true promises. Be cautious of high-pressure sales tactics, such as limited-time offers, which might pressure seniors into making a purchase without fully understanding a product.
Additionally, seniors can safeguard their personal information by not sharing sensitive data with unverified sources. Before buying supplements, conduct research on companies and products to ensure seniors are making the right choice for their health.
Senior Helpers San Bernardino Provides In-Home Care Services for Seniors' Well-Being
Staying informed about supplements and vitamins for senior brain health is crucial in maintaining a healthy lifestyle as we age. By consulting healthcare professionals, exploring reputable online resources, and utilizing offline sources, seniors can feel confident in making informed decisions about their brain health.
For seniors living in Loma Linda, Redlands, Grand Terrace, San Bernardino, Colton, Yucaipa, and Rialto areas, Senior Helpers San Bernardino offers a range of services to support your health and well-being. Contact us today to learn more about how we can help seniors maintain a healthy lifestyle and prioritize brain health!