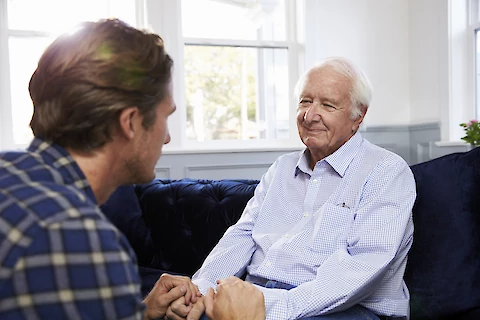 Talking About End-of-life Wishes with Adult Children: When Is the Right Time?
End-of-life planning can be a difficult conversation to initiate. After all, no one likes to think about the inevitable. But talking with your adult children about your end-of-life wishes is important. It can provide peace of mind to you and your family knowing that your wishes will be respected when the time comes.
Start with a Clearly Outlined Plan
Before having the conversation, determine first what you want. You don't want to initiate the talk without being able to answer key questions. For example, are there any financial affairs you want to get in order? Do you know who you want to be involved in the decision-making when the time comes? Are there individuals you don't want to be involved or any important family milestones that you would like your family to include you in, even if you're in the hospital or in hospice? Are there specific medical procedures you would want or not want? 
Wait Until Your Children Are Mature Enough to Handle the Conversation
Everyone matures at their own pace. Wait until you feel comfortable that the topic won't be too emotionally overwhelming for your children or bring up unresolved feelings in them. It may help to casually mention the topic in a relaxed setting, such as during a family games night, to gauge how they'll respond to the full conversation in the future. 
Begin Having These Conversations as Early as Possible
If you can, don't wait until you're faced with a health scare. The more proactive you are, the easier it will be to manage care decisions ahead of time. This may also ease any stress felt by your family members during a delicate time.
Initiate the Conversation When Life Is Calm and No One Is Stressed
You want everyone to put their full attention towards the topic at hand and not be too stressed or too busy to ask you questions, give you feedback, and share their thoughts and emotions. You also don't want to hurry through the conversation just because you're on a short schedule. If you do that, it may appear as if you are rushing the discussion because of health concerns. Rather, you want the timing to make it obvious that you've given this a lot of thought and have been planning for some time in advance. 
Choose a Setting That's Conducive to Intimate, Honest Conversations
When talking about end-of-life wishes, pick a setting that fosters close, authentic conversations. Rather than discussing specific details of care plans and financial arrangements in a restaurant or busy public space, choose an environment that encourages deeper thoughts without feeling awkward or uncomfortable. For example, having the conversation at home can be beneficial since the memories associated with childhood and family life may help you and your family feel safe enough to truly speak openly.
Senior Helpers Pleasanton Offers Personalized In-home Care
Senior Helpers Pleasanton can give you and your family the confidence that you'll have everything that you need when the time comes. From chronic disease management to respite care and end-of-life care, our personalized in-home support is tailored to your unique situation. Contact Senior Helpers Pleasanton today to learn more about our services in Livermore, Dublin, Pleasanton, Hayward, Livermore, Dublin, and Alameda County, CA.