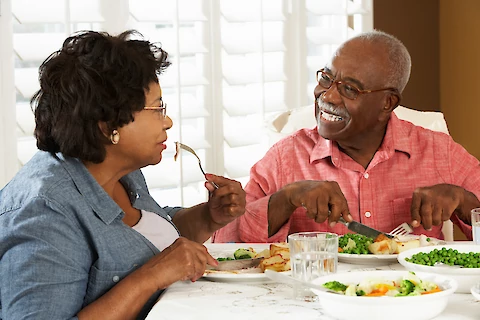 As we age, preparing nutritious meals becomes increasingly challenging, especially when living alone or managing a chronic health condition. Senior Helpers Pleasanton, a leading in-home senior care company serving the Livermore, Dublin, Pleasanton, and Hayward communities in Alameda County, is here to help. 
In this blog, we outline the pros and cons of both meal prep and meal planning to help seniors make informed decisions on how to best care for their health and nutrition.
The Difference Between Meal Prep and Meal Planning
Meal prep is a form of meal planning where meals are planned out and prepped in advance. This means that meals are pre-cooked, portioned, and stored ahead of time so they can be quickly reheated and served. Meal planning, on the other hand, involves mapping out meals in advance. Meal planners take into account ingredients, dietary needs, and budget when planning meals, but meals are cooked to order and not pre-cooked.
Pros of Meal Prep
Time-saving: Meal prepping can alleviate time and energy spent on cooking, creating time for other activities. 
Money saving: Meal prepping allows seniors to buy in bulk and portion out their meals, which can save money in the long run.
Healthy and nutritious meals: Meal prepping allows seniors to control their diet and eat a variety of healthy and nutritious meals.
Drawbacks of Meal Prep
Lack of variety: The same meal is often eaten multiple times due to meal prepping, which can cause some seniors to get bored with their meals.
Lack of flexibility: Meal prepping requires planning and it can be difficult to make spontaneous changes to the weekly menu. 
Higher expense: Meal prepping requires proper storage and supplies, which can add to the overall cost of meals.
Pros of Meal Planning
Flexibility: Meal planning offers greater flexibility as meals can be changed and adjusted as needed.
Variety: Meal planning allows seniors to cook and eat a variety of meals.
Cost-effective: Meal planning allows seniors to take advantage of sales and food specials.
Drawbacks of Meal Planning
Time-consuming: Meal planning requires time to plan out meals and shop for groceries, which can be difficult for seniors with limited time or mobility. A caregiver might be able to help seniors complete this more easily and without the added stress.
Special dietary needs: Meal planning can prove to be difficult for seniors with special dietary needs who require specialized ingredients.
Seniors Should Pick What Works Best for Them
Ultimately, seniors need to consider their individual needs and lifestyle when deciding between meal prep and meal planning. 
Senior Helpers Provides Meal Planning Support
Meal prep and meal planning provide cost-effective and nutritious meals for seniors, however, both come with their respective pros and cons. Seniors can contact Senior Helpers Pleasanton to develop a personalized in-home care plan that fits their individual needs. With quality care and professional guidance, seniors can lead healthier and more comfortable lives. Contact us today to learn more!