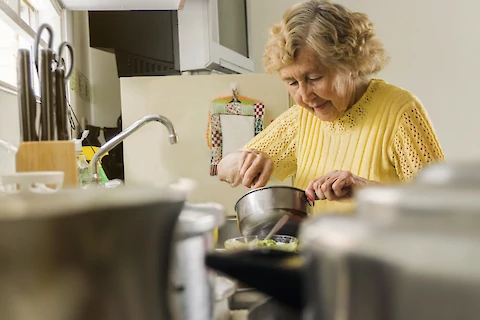 Are you a senior with arthritis or limited hand-related mobility? If so, cooking can be a challenge. Here at Senior Helpers Pleasanton, an in-home care company serving the Livermore, Dublin, Pleasanton, Hayward, and Alameda County areas, we understand the difficulties many seniors face in their daily tasks, especially in the kitchen. 
That's why we've put together our top five tips and tricks to ensure your meal preparation is both safe and comfortable. Read on to learn helpful tips and tricks that can make your everyday meals a breeze.
Utilize Pre-Cut Ingredients
Pre-cut ingredients are a great way to save time and energy in the kitchen. Whether it's purchasing pre-cut vegetables or fruits from the store, taking advantage of pre-sliced cheeses or deli meats, or simply buying frozen options, there are plenty of options to make your meal-prepping process easier. Not only will it save you time, but it can also decrease the stress of preparing meals and reduce the strain that comes with manual chopping or slicing. 
Purchase Pre-Packaged Meals
If you're looking for a simple and safe solution to getting meals prepped and ready, pre-packaged meals can be a great way to cook without having to worry about prepping things on your own. Prepared meals are typically already cooked and safe to eat right away, and they can be a great way to get a nutritious meal while still accommodating your needs.
Use a Slow Cooker
If you're looking for an even easier way to make meals, a slow cooker is a great option. Slow cookers allow you to simply throw in all the ingredients, turn it on, and forget about it. All you have to do is wait a few hours, and you'll have a delicious, nutritious meal ready to eat. Slow cookers can also be especially helpful for those with limited hand-related mobility, as there's no need to stir, mix, or flip food. Plus, slow cookers are extremely versatile and can be used for a wide variety of dishes, from desserts and appetizers to mains and vegetable side dishes. 
Hire a Caregiver to Assist With Meal Prep
For seniors with more severe mobility issues, having someone assist with meal preparation can be a great solution. Our Senior Helpers Pleasanton caregivers are available to help in the kitchen with everything from prepping food to cooking to cleaning up afterward. This can take the stress out of meal planning and make mealtime much easier.
Senior Helpers Can Be Your Right Hand With Meal Prep 
Making meals can be a challenge for seniors with arthritis or other hand-related mobility issues, but with the help of the tips and tricks provided here, mealtime can be much more manageable. Consider utilizing pre-cut ingredients, purchasing pre-packaged meals, using a slow cooker, or hiring a caregiver to make mealtime easier and stress-free. If you're looking for more assistance in the kitchen, contact us at Senior Helpers Pleasanton to learn more about our in-home care services.