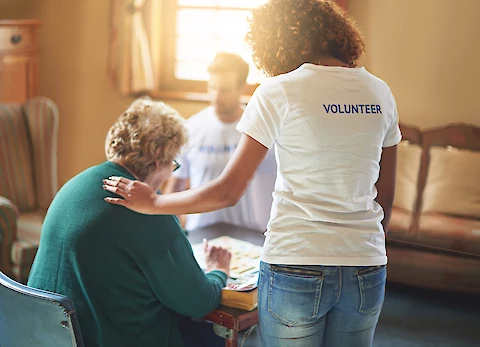 Giving back to the community is a noble cause that all people should embrace to bring lasting change to the local community. An excellent way to do this is by giving back to seniors during this holiday season.
Ever thought of volunteerism, especially giving back your time and skills to seniors or organizations working with elderly loved ones? With December being National Giving Month, the goal of this blog post is to share the many benefits people can accrue through giving to the elderly.
Gain Knowledge from Seniors
Each day lived is an experience gained. It is no secret that our seniors have passed through numerous occasions that have shaped their lives. These experiences can be passed on to other generations through general conversations during volunteering activities.
When individuals share their time with senior citizens, they'll have an excellent opportunity to experience life through their lenses. Seniors will share the good and bad times they have gone through and thereby give participants appropriate guidance on what's needed to experience life's full potential. By being great listeners, volunteers can learn a lot through their daily interactions with the elderly.
Boost Resume
Volunteerism is a great undertaking that can boost one's resume. For those who have been out of work for some time, giving back to a senior center or an organization working with senior citizens will significantly benefit their career goals by filling up employment gaps on their CVs.
The time spent helping senior loved ones will equip volunteers with additional transferable skills that boost their job search efforts. Some skills they can acquire in assisting senior clients are communication and interpersonal skills, which are vital in the job market.
Improve The Lives of Seniors
Senior citizens are at an advanced stage in their life journey, and at times, they may need some help with various activities like bathing, dressing, cooking, and eating. Supporting them in such areas will greatly improve their lives.  
Just like any other person in society, some senior citizens may also experience a form of loneliness. According to APA Psycnet, such a form of loneliness can accelerate the occurrence of heart-related diseases. Volunteering your time to seniors significantly improves their emotional well-being, positively impacting their health.
Support Other Families
Some senior citizens present in senior community centers belong to families living far away. At times, some of these families may not be able to travel and be with their loved senior ones during the holiday season. Imagine the happiness such families can have after realizing that, apart from the supportive staff in senior centers, other people are supporting their loved ones.
Volunteer at Senior Helpers Pleasanton During This Holiday Season
Senior Helpers Pleasanton is a leading service provider delivering unappalled senior care services. The franchise coverage areas are Livermore, Hayward, Dublin, Pleasanton, and Alameda County.
Are you looking for a reputable senior caregiver for your loved ones or a senior-oriented organization in Pleasanton where you can volunteer your time? Our team of friendly caregivers is available to deliver professional support services to senior citizens. Contact us today and learn more about our services and how you can volunteer with us.