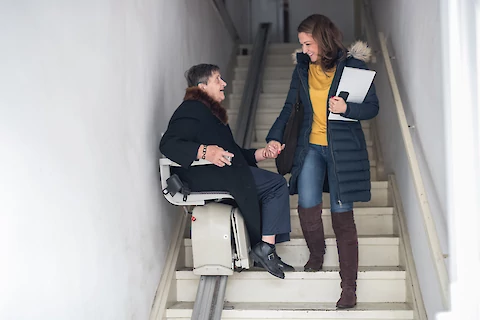 Understanding the importance of independence as someone ages is crucial for seniors and their loved ones. When it comes to elderly care, one of the biggest challenges seniors face is mobility issues. As a family caregiver, you may often ponder, "How can I assist my senior loved ones in retaining their independence while safeguarding their safety at home?" The answer lies in the intelligent use of mobility aids and assistive technologies! These tools are designed to offer support in various aspects of daily living, promoting safety and enhancing the quality of life for seniors. 
Understanding the Need for Mobility Aids
As people age, changes like loss of muscle strength, decreased bone density, or coordination problems can make it challenging to move around independently. Mobility aids are essential in maintaining a senior's independence and safety, from aiding stability to preventing falls. Furthermore, some types of mobility aids can make it easier for seniors to get around, allowing them to remain more active despite physical or health-related difficulties. 
Types of Mobility Aids and Assistive Technologies
There's a wide range of assistive tools available today, each designed to suit different needs. Walkers, for instance, provide support for those with balance issues, helping seniors move around their homes and beyond confidently. Wheelchairs come in handy for individuals with significant mobility problems, ensuring they remain active and engaged despite their physical challenges.
Stairlifts prove to be big innovations for seniors living in multi-level homes. These devices eliminate the risk of falls while making going up and down the stairs a breeze. And it's not only about physical mobility aids. The advent of smart home devices is also revolutionizing elderly care. Voice-activated lights, appliances, and automated medication reminders. These digital tools are making day-to-day tasks simpler and safer for seniors.
Tips for Choosing the Right Mobility Aid
Choosing the right mobility aid goes beyond picking the most advanced device. It's crucial to consider the individual's specific needs and preferences. What mobility challenges do they face? What tasks do they need help with? Involve healthcare professionals in your decision-making process, as their expertise can guide you to the most suitable options.
Also, remember to consider the home environment. If space is tight, a compact mobility scooter might be better than a large wheelchair. If there are a lot of stairs, installing a stairlift will be beneficial. Consider where your loved one faces the greatest challenges, what mobility issues prove most serious, and how you can best improve your loved one's quality of life. 
Embracing Mobility Aids and Assistive Technologies
Some seniors might resist using mobility aids. Seniors may worry that these aids might underscore their weaknesses. However, when used correctly, these tools are not a sign of weakness. Instead, they're a means to maintain an active and fulfilling life. Communicate this positive narrative and encourage seniors to embrace these life-enhancing tools. The use of mobility aids can lead to a better quality of life not only for them but also for you, as it signifies less worry and more freedom.
Helping Seniors Maintain Independence and Mobility at Home
There's no denying that mobility aids and assistive technologies are essential in helping seniors maintain their independence. However, the choice depends on individual needs, consultation with healthcare professionals, and an open mindset toward these tools. If you or your loved one reside in Livermore, Dublin, Pleasanton, Hayward, or Alameda County, don't hesitate to reach out to Senior Helpers Pleasanton. We're here to guide you through this journey and offer solutions that best fit your unique needs, including providing in-home care and support for seniors who may need more assistance than mobility aids can provide.