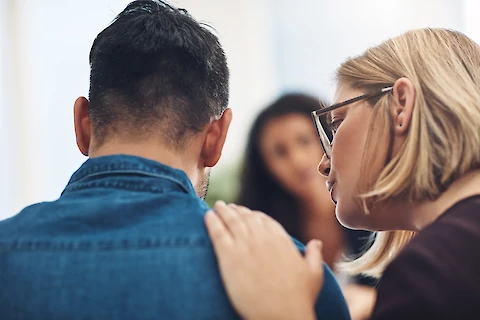 Caring for a senior loved one can be a rewarding yet emotionally challenging experience. As you navigate the journey of caregiving, it's crucial to recognize the significance of grief support, not only for yourself but also for your family. Remember, feeling overwhelmed is normal, and seeking help is a sign of strength, not weakness. Let's delve into the world of grief support and find the tools to navigate this difficult journey together.
The Grieving Process
Grief is a complex, multi-faceted response to loss, and it's essential to understand that everyone experiences it differently. Typically, the grieving process consists of five stages: denial, anger, bargaining, depression, and acceptance. However, these stages don't always happen in order, and some individuals may not go through all of them. It's crucial to remember that there is no "right" way to grieve, so it's normal to feel a range of emotions during this time. Give yourself and your loved ones the understanding and patience needed while you navigate the unique grieving process.
The Importance of Grief Support
Seeking grief support is a vital part of healing during this challenging period. Grief support can aid caregivers and families in understanding and coping with their emotions, preventing feelings of isolation that can often accompany loss. By accessing grief support resources, you can process your feelings in a safe and nurturing environment, contributing to a healthier emotional state in the long run. Neglecting the need for grief support may lead to a higher risk of depression, anxiety, and other emotional challenges, impacting your overall well-being and ability to care for yourself and others.
Types of Grief Support
Various forms of grief support cater to caregivers' and families' diverse needs and preferences. Support groups offer a sense of community where you can share your experiences with others who have been through similar situations. You can find these groups through local hospitals, hospices, and community centers. Individual counseling with a licensed therapist or grief counselor can provide personalized guidance and coping strategies. Many online resources, such as forums and websites dedicated to grief, offer valuable information and connection opportunities.
To find local grief support resources in Livermore, Dublin, Pleasanton, Hayward, and Alameda County, consider contacting local hospices, hospitals, and community organizations to inquire about available services. A quick online search can also provide information on local support groups and counselors specializing in grief therapy, including counseling options, grief support events, and more.
Tips for Seeking Grief Support
Remember to lean on your support network of friends and family. They can be an invaluable source of comfort, understanding, and assistance when you need support. If you need additional aid, consider joining a support group or seeking the guidance of a professional counselor.
Utilizing online resources and connecting with others who have experienced similar circumstances can provide additional comfort and validation of your feelings. Remember to prioritize self-care and give yourself the time and space needed to heal. Self-care may include engaging in activities that bring you solace, setting aside time for reflection, or ensuring you're tending to your physical and emotional needs.
Senior Helpers Can Offer Caregiving Support
The importance of grief support for caregivers and families cannot be overstated. By understanding the grieving process, seeking resources, and practicing self-care, you can navigate this challenging experience with greater resilience and emotional health. At Senior Helpers Pleasanton, we understand the emotional toll that caregiving can take and can provide compassionate care and support for seniors and their families in Livermore, Dublin, Pleasanton, Hayward, and Alameda County. Contact us today to learn more about our services and how we can help support you during this difficult time.