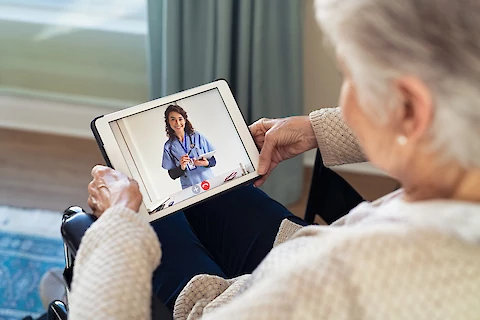 Which Telehealth Services Are Best For Seniors?
Telehealth is the go-to option for seniors looking to maintain their independence and enjoy living at home while still receiving the healthcare they need. The use of telehealth is convenient and a safer alternative for seniors. Read the guide below to learn what telehealth is, its benefits, and how to incorporate it into one's healthcare routine.
What Are Telehealth Services?
Telehealth or telemedicine services is a technique of providing medical care remotely through video chat. It offers healthcare services through the use of digital devices such as smartphones and computers. Seniors can track their vital signs remotely and communicate easily with their doctor via video chat.
Five Benefits of Telehealth Services
1.    Improved Access To Healthcare
Telemedicine makes accessing care easier and more affordable for seniors living in geographically isolated areas. Seniors can chat with the healthcare provider through an application rather than making a trip to a doctor's office. In addition, through telemedicine services, seniors can renew their prescriptions and consult a doctor in real-time
2.    Fewer Expenses
Telehealth eliminates the need for travel costs as well as secondary expenses such as food and gas. In-person visits are challenging, especially for seniors who are strained financially and may need transportation to the healthcare facility. 
3.    Convenience
Telemedicine offers the flexibility of accessing care in the comfort and privacy of one's home. For seniors with mobility and transportation limitations, telehealth is a convenient way to get healthcare. 
4.    Access To A Wide Range Of Services
Telemedicine helps treat a wide range of medical conditions. Seniors can access primary care consultations, physical therapy, and emergency services. 
5.    Reduced Risks Of Infection
Visiting a hospital means that seniors have to interact with other people who are often sick. This can be risky for seniors who have underlying conditions. Thus, telemedicine eliminates the risk of getting infected. 
Most Popular Telehealth Services That Are Available For Seniors
Telehealth technology has opened new ways for seniors to meet their healthcare providers. Some of the popular telemedicine services to explore include:
Sesame
The advantage of Sesame is that it is affordable, and seniors can book same-day appointments for an initial consultation. Sesame Care also offers specialized treatment for seniors with mental health, diabetes, and sleep issues. 
Teladoc
It was among the first telemedicine firms in the US. Teladoc offers a wide range of care services, including mental health consultation for seniors experiencing seasonal depression. General medical visits can range from $0 to $75 if the senior does not have insurance. 
MeMD
MeMD is best for seniors requiring quick healthcare services. Seniors can discuss with healthcare professionals their symptoms. The doctor can then send a prescription to one's preferred pharmacy. 
How To Get Started With Telehealth
Here are three tips on how seniors can incorporate telehealth into their routines:
Plan And Set Up Telemedicine Devices
A family member could also help set up a telehealth account for the senior to begin telemedicine sessions. Set up a computer with internet access and add shortcuts that seniors may need to navigate. Testing the sound and video quality of the device before the start of the appointment is essential. 
Set Reminders
Seniors can set up reminders about healthcare appointments time in their calendars. Once a virtual appointment has been confirmed, seniors can add it to their reminder, so they do not forget. 
Prepare For Telehealth Appointments
Caregivers can help prepare for the telehealth appointment by printing out a telehealth checklist containing all the senior's medical information. This also helps the senior be prepared for any questions the doctor may ask. The senior can have prescription containers at an accessible place in case it is required. 
Need Professional Caregiver Services?
At Senior Helpers North-Central OC, we advocate for the best care for your senior loved one. If you have a senior relative needing professional caregiver services, consider adding Senior Helpers North-Central OC into your plans. We offer in-home caregiver services in Yorba Linda, Fullerton, Anaheim, Anaheim Hills, Brea, Placentia, and La Habra. Contact our team for more information.